Jamie Oliver's Brown Windsor Soup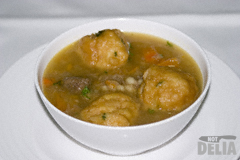 This is Jamie Oliver's recipe for brown Windsor soup with pearl barley. He suggests serving it with hunks of cheesy mustard soda bread to mop up every delicious drop, but I made dumplings for my version.
I sort of followed Jamie's version and it turned out tasty, but for the time and effort I definitely prefer goulash soup. Here's Jamie Oliver's modern take on this classic dish.
Brown Windsor Soup With Pearl Barley
Serves 4-6
Ingredients
A large knob of butter
Olive oil
500g chuck steak, diced
1 tbsp Marmite or Vegemite
A splash of Worcestershire sauce
1 red onion, chopped
2 carrots, chopped
3 celery stalks, trimmed, chopped
1 bay leaf
A sprig of fresh rosemary
1 tbsp plain flour
2 litres (8 cups) beef stock
¾ cup (150g) pearl barley
Method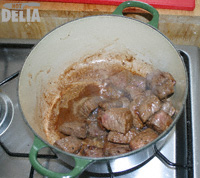 Melt the butter in a large saucepan over medium heat and add a splash of olive oil. Lightly brown the meat in the pan, then stir in Marmite and Worcestershire sauce. Turn the heat up and keep stirring as the meat browns further. It will start releasing lots of juices – just keep stirring and cooking until all the liquid has evaporated.
Throw in the veggies, bay leaf and rosemary. Cover and sweat gently over low heat for about 8 minutes or until the vegetables have softened. Stir in the flour and, after 1 minute, pour in the stock. Season well with sea salt and freshly ground black pepper and bring to the boil. Turn the heat down to a simmer, add the pearl barley and cook for about 1 hour until the pearl barley is soft.
Take the saucepan off the heat and discard the bayleaf and rosemary sprig. Whizz the soup with a hand-held blender for a couple of seconds so it thickens but there are still some chunky bits in it, then give it a good stir.
I have a couple of Jamie Oliver cookbooks and find them very useful. Good, tasty stuff without over-complicating things. I'll review them soon.
Cook With Jamie
Jamie Oliver
Hardback, 448 pages
2006, Michael Joseph
ISBN 0 718 14771 5
RRP: £26.00