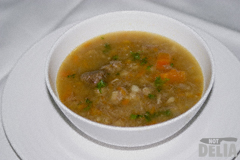 Brown Windsor soup is a traditional British soup which was popular in Victorian and Edwardian times. For some reason it was also popular in the 1980s – and was a starter on the menu of Fawlty Towers.
Marguerite Patten in her Century of British Cooking book has this to say on the subject:
The title of this soup suggests it was a favourite at Windsor Castle but I can find no record that confirms this. Over the years the word 'brown' has prefixed the name. Sadly this often describes a very indifferent dish. The true Windsor soup, whether clear or thick and satisfying, is rich in flavour and very delicious. The bouquet garni suggested for this soup consists of parsley, thyme, rosemary, and a bay leaf.
(You can see two different recipes by Marguerite Patten for brown Windsor soup here: a clear version and a thick version.)
Since the 1980s brown Windsor soup has fallen out of fashion but – just as with many other dishes which have been cast aside like old lovers – it's now become fashionable to create a new take on an old dish.
Donna Hay's Modern Classics Book 1 also revives and recreates old favourites, although – to the best of my knowledge – she hasn't written about brown Windsor soup yet.
That honour falls to Jamie Oliver, who published a brown Windsor soup recipe in the July 2008 edition of the Australian delicious magazine. Browsing through the magazine, I saw the photo and thought "Yum!". It was only afterwards that I noticed the title – brown Windsor soup with pearl barley. Oh well, I'll try just about anything once and had a go at making it.
It was pretty good. Certainly filling. I might make it again, but for similar cost, time and effort, and ingredients, on reflection I'd probably rather have goulash soup, which is more complex and tastier. I also made some dumplings to go with the brown Windsor soup – now that'll stick to your ribs on a cold day.