Goulash Soup (Gulaschsuppe)
A Not Delia reader, Mike K-H of NewFreebooters.com, asked me for a recipe for goulash soup (Gulaschsuppe) – so here it is!
Ingredients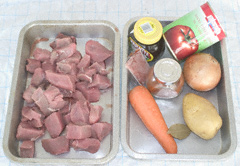 1lb (500g) stewing steak
(There's actually 1 kg of meat in this photo – you don't need so much for a goulash soup, but I'm making beef stew and meat pasties too. Sorry, I forgot to remove half of it for the photo.)
1 carrot
1 potato
1 onion – chopped
1 tin of tomatoes
2 cloves of garlic (optional)
paprika
1 bayleaf
1 tbsp tomato puree
beef stock* (see below)
(I don't usually put any potatoes in my version of goulash soup but my famous namesake uses 1lb of potatoes per 1lb of steak. I'm making my soup in a pressure cooker to speed up the process – if you are using potatoes, I'd advise against putting them in the pressure cooker as it seems to change their taste and texture in a rather unpleasant way.)
Oops, I forgot to put garlic in the photo, but hey – it's optional. The bayleaf, on the other hand, isn't optional in my view. I used to think bayleaves were a bit of a faff, but they really do make a difference to the flavour so use them if you've got 'em!
Method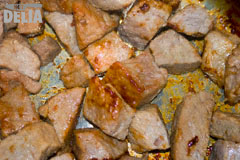 Trim off any boingy bits from the meat. Brown the meat and remove it from the pan. Sweat off the onion and carrot (and garlic?), in the same pan, then add the meat back in.
Add the potatoes, paprika, tomatoes, tomato puree, and the bayleaf. Chuck in a blat of Marmite and enough water to cover it, and simmer for a couple of hours until meat is tender.
Goulash soup is often served with dumplings and you can see my recipe for dumplings here, including how to make dumplings without suet. It's also often garnished with soured cream but I used red chillies and coriander instead.

* Beef stock – yes, get the beef bones and do all the cheffy stuff. We can cover that later. Meanwhile, a blat of Marmite is a great cheat and still tastes good. I cook most things from scratch rather than use expensive and nasty packets and powders but some cheat products can save you hours of effort. Marmite is one of my favourite cheats. If you don't have Marmite, I guess a beef stock cube or two would do the trick. A dash of Worcestershire sauce is also good for adding to the flavour.