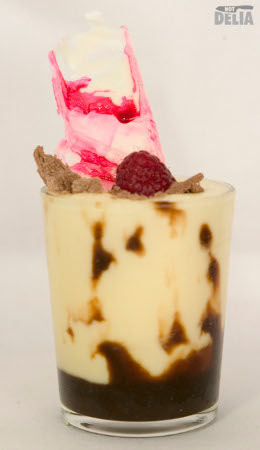 Hey, you knew I wasn't making marbled chocolate just for the sake of it (plenty more recipes and ideas coming soon). Here's one quick and easy dessert using the marbled chocolate garnish.
This recipe serves two – actually it makes two small shot glasses, but it's kinda sweet so that's probably enough if you don't want your teeth to curl from the sweetness.
[Warning – this recipe has a raw egg in it so please be aware of the risks. Mr ND and I scoffed it without any harm, but you should be aware of the risks of eating raw eggs and make your own decisions.]
First, I'm going to give you the original recipe which I got out of the book A Chocolate Dream by Rosemary Wadey (page 82), then I'll go on to tell you how I embellished it a little bit.
Ingredients
(serves 2)
90 g/3 oz/3 squares white chocolate
15 g/½ oz/1 tbsp butter
1 tbsp rum
1 egg, separated
1 tbsp natural fromage frais
To decorate:
whipped cream or natural fromage frais
fresh raspberries (optional)
fresh mint leaves
Method
1. Break up the white chocolate and put into a heatproof bowl with the butter. Place over a saucepan of very gently simmering water, and heat gently until completely melted, stirring frequently.
2. Remove the bowl from the heat and beat in the rum, followed by the egg yolk and finally the fromage frais. Leave to cool.
3. Whisk the egg white until very stiff and dry and fold evenly through the white chocolate mixture.
4. Divide between 2 individual serving pots and chill until set. This mousse does not set very firmly.
5. Before serving, top each pot with a spoonful of whipped cream or fromage frais and decorate with a few raspberries and fresh mint leaves. Alternatively, sprinkle with some grated dark chocolate, or a chocolate flake bar, roughly crumbled.
OK, so I made the white chocolate mix. The picture in the book has a bit of piped whipped cream with a raspberry and mint leaf on the top of it – very nice, but it looked a bit "classical" in my not very humble opinion. Nah. We can do better than that. I happened to have some butterscotch sauce lurking in the fridge from when I made my banana split sundae. Seriously, that stuff seems to keep for ever in the fridge. So I heated up the butterscotch sauce and poured a little bit into the bottom of the glasses. Either you'll think I was clumsy or artistic about how I blootered some of it down the sides, but I quite liked the look of it, so I went along with this look. I let that cool for a little while and then added the chocolate mix.
Then I chilled it right down in the fridge. At the last minute I added a rectangle of marbled chocolate (as in – well, here's one I made earlier…) plus a little bit of Cadbury's Flake and topped it with a raspberry. Of course you don't have to go to all that faff, but if you happen to have these kind of things lying around you might as well use 'em. I'd have been quite happy to serve that at a dinner party. It looks as if it took a lot more effort to make than it really did. I'd say it was easy peasy.