Marbled chocolate – a quick and easy garnish
This a a very quick and easy garnishing technique which can give some quite impressive results. I did look for some more "official" or perhaps more orthodox way to do it but didn't find anything suitable, so this is just my own way. I'm sure some of you are very creative about how you cook, so have a go and see what you can come up with.
All you need is a suitable surface such as a chopping board, cling film, a palette knife, a doubler boiler, cooking chocolate, and food colouring. I'm going on to make a raspberry cheesecake (recipe coming soon) so I used white chocolate and rose pink food colouring. You can get as creative as you like. If you were making something with brambles, for example, you might like to use purple colouring. The possibilities are endless.
Don't worry if you don't have a double boiler – you can easily improvise one with a heatproof bowl which fits on top of an ordinary saucepan.
Method
Put some hot water in the double boiler or pan. Gently melt the chocolate in the top half of the double boiler or heatproof bowl. Be sure not to get any water in the chocolate as it changes the texture.
While the chocolate is melting, spread a sheet of clingfilm on your board.
Pour the melted chocolate onto the clingfilm and spread it out using a palette knife.
Next add a few drops of food colouring. Go easy on it – a little goes a long way!
Now get as creative as you like and using the palette knife spread the food colouring into patterns or swirls.
Once you're happy with that, then use a sharp knife or cutter to create shapes, perhaps triangles, discs, or rectangles.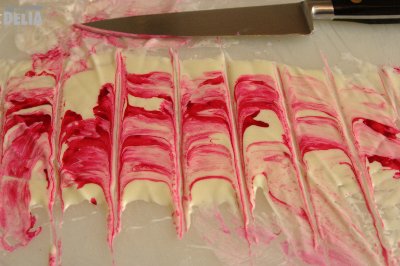 Gently lift the sheet of chocolate (leave it on the clingfilm for now) into the fridge to chill. You might find it easier to put it onto a plate or baking sheet first.
Once the chocolate is cold, it's ready for use as a decoration.