Mr Not Delia brought back half a kilo of mussels from our local market. I thought it might be nice to make a classic moules marinières. That's a very simple dish to make – Ainsley Harriot even has it in his Gourmet Express cookbook.
The trouble was that, as well as onions, garlic, white wine and cream, parsley is an essential part of that dish – and I didn't have any fresh parsley.
Not to worry, I had a huge bunch of fresh and fragrant coriander (cilantro) as well as plenty of the usual Thai ingredients.
I found a recipe in The Conran Cookbook for Thai Mussels, but it just didn't look right to me. For starters it contained cream, and I've never heard of any Thai dish with dairy cream in it. So I just did my own thing – and very tasty it was too.
Conran's recipe for Thai Mussels
(Serves 4)
Ingredients
2.3kg/ 5 lb mussels, scrubbed and cleaned
a bunch of fresh coriander
3 tbsp fish sauce
150ml/¼ pt double cream
For the Thai flavourings:
a 5cm/2 inch piece of galangal or ginger, peeled and sliced
6 spring onions, chopped
4 large green chillies, seeded and chopped
2 stalks of lemon grass, chopped
6 lime leaves
1 garlic clove, crushed
juice of 2 limes
400ml/14 fl oz thin coconut milk
Method
Put the mussels into a large saucepan and add 300ml (½ pint) of water. Bring to the boil, then put the lid on the pan and steam for 3-5 minutes, shaking the pan from time to time. When all the shells have opened, drain the mussels in a colander set over a clean saucepan to catch the juices. Reserve the juices.
Allow the mussels to cool slightly, then remove and discard the empty half of each shell. Put the mussels on their half-shells into a bowl and set aside. Pull the coriander leaves from their stalks, and set aside; chop the stalks. Add the coriander stalks and the Thai flavourings to the reserved mussel juices. Set the pan over a low heat and simmer for about 30 minutes. Strain the liquid through a fine sieve into the large pan in which you cooked the mussels. Stir in the fish sauce, cream, and chopped coriander leaves.
Add the mussels on the half-shell and bring to a simmer. Heat through gently for about 5 minutes. Serve in shallow soup plates.
***
Not Delia's Mussel Soup – Thai Style
(Serves 2 hungry/greedy people)
Ingredients
½kg mussels
1 pt boiling water
Thai flavours
a 2½cm/1 inch piece of galangal (or ginger) peeled and finely chopped
a couple of handfuls of straw mushrooms, halved (you can use other mushrooms, if wanted)
2 red chillies, sliced at an angle (for nicer presentation)
2 stalks of lemon grass, finely sliced
4 lime leaves, very finely chopped into slivers
2 garlic cloves, finely chopped
juice of 3 or 4 limes
250ml/8 fl oz carton of coconut milk
a bunch of fresh coriander
4 tbsp nam pla (Thai fish sauce)
Method
If you're not sure about cooking mussels, please see Mussels – a shut and open case.
First scrub and clean the mussels and discard any which are not tightly shut.
Next put the mussels into a suitable pan, pour a pint of boiling water over them, put the pan lid on, and simmer gently for 3-5 minutes until the mussels are cooked. They'll open when they're cooked. Discard any which don't open.
Meanwhile you can be chopping your Thai ingredients.
Place a colander into a large bowl, pan, or other suitable container, and drain the mussels – catch the mussel juices in the bowl.
Rinse the pan (the one you just cooked the mussels in) to remove any sand and grit. Pour the mussel juices back in. I strained mine through a piece of muslin cloth, but if you're very careful the sand will sink to the bottom and you can pour out the juices leaving the sand behind.
Add the coconut milk to the mussel juices in the pan, and add the other Thai ingredients but NOT the nam pla, lime or coriander just yet.
Simmer for a few minutes to let the flavours infuse.
Meanwhile remove the empty halves of the mussel shells and discard. Put the mussels, in their half shells, back into the pan with the juices and other ingredients, and simmer for a few minutes until reheated.
Add the nam pla, a little at a time. This is like adding salt, so don't overdo it. Go by your own taste.
Turn off the heat, and squeeze in lime juice until you get the right balance of salty and sour. Add more nam pla, if wanted, or more lime juice until the flavour is perfectly balanced.
Add the coriander at the last minute so it keeps its green colour and fresh flavour.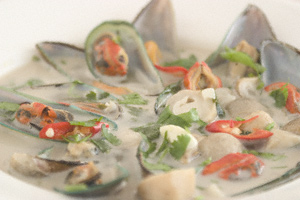 Now remove the mussels, still in their half shells, and arrange in a shallow soup plate. Pour the soup over them. Serve garnished with additional coriander and sliced red chillies if wanted.
Despite my not liking the look of the Thai Mussel Soup in The Conran Cookbook, there's a lot of good stuff in it. I'll do a review of it soon.
The Conran Cookbook by Caroline Conran, Terence Conran and Simon Hopkinson
Hardback, 432 pages
1997, Conran Octopus Ltd
ISBN 1 85029 897 1
RRP: £30.00