Mussels – a shut and open case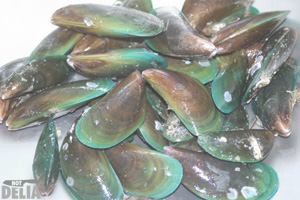 We always buy our mussels live to ensure freshness. You can buy frozen mussels, especially the New Zealand green-lips, but I've never tried to cook frozen mussels and so can't comment on that.
When you're buying mussels make sure the shells don't have any cracks. Then there are two things to do to make sure that you're minimising the risks of getting food poisoning.
1. Tap the mussels gently on the shell. If they close, they're alive. If they don't close, they're not fresh or are already dead and you should discard them.
I don't go through the process of tippety-tapping every single one. I find that if you simply tip the bag of mussels into the sink, all the live ones will shut up shop pretty darned quick. If any don't shut, then tap them and if they still don't shut then chuck 'em.
2. During the cooking process the shells should open. If any don't then they should be chucked too.
A shut and open case, M'lud.
You will also want to clean them before cooking to remove any sand or grit. Mussels often have a "beard" of seaweedy stuff which you need to remove by pulling it away. Then scrub the shells. I use a nailbrush which is dedicated for food use only.
There are lots of lovely things to make with mussels – for instance, Thai-style mussel soup, moules marinières or crumbed mussels – and they are usually one of the most inexpensive and readily available shellfish on the market.