Gordon Ramsay "mussels" in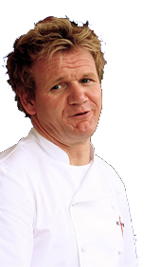 Original photo:
Dave Pullig
I discovered yesterday where Gordon Ramsay gets his ideas from – Not Delia!
What led me to this conclusion? Whilst browsing the Times Online food and drink section, I noticed that the ubiquitous chef had written a feature about how to cook mussels, Thai style mussels, and baked crumbed mussels – all published on 14 February 2009.
Gordon Ramsay: How to cook mussels
Imitation being the sincerest form of flattery, it was quite satisfying to see Gordon's feature only a few weeks after Not Delia had done the very same thing.
Not Delia published articles about:
If he's lurking on here looking for ideas, then perhaps Gordon Ramsay really is everywhere!
I wonder if any other celebrity chefs read this blog? 🙂