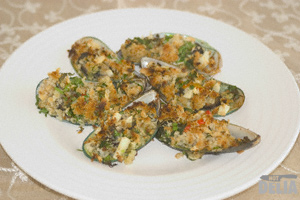 I had more mussels than I really wanted for my Thai Style Mussel Soup, so I put half a dozen aside to make a little tapa dish of garlic mussels in breadcrumbs.
Donna Hay included a nice recipe for crumbed lemon and chive mussels in her Dec/Jan 2008 magazine. (The donna hay magazine is always worth getting!)
Donna Hay's crumbed lemon and chive mussels
(Serves 4)
Ingredients
1 cup (50g/1¾ oz) fresh breadcrumbs
2 teaspoons finely grated lemon rind
¼ cup chopped chives
sea salt and cracked pepper
60g (2 oz) butter, melted
1kg (2¼ lb) mussels, steamed and top shell removed
Method
Place the breadcrumbs, lemon rind, chives, salt, pepper and melted butter into a bowl and mix to combine. Divide the mixture over the tops of the mussels and place on a baking tray. Cook under a preheated grill for 4-6 minutes or until the breadcrumb topping is golden.
When I saw the photo of these I decided I'd definitely like to try. Here's my version – all my ingredients are scaled down because I only used 6 mussels as opposed to Donna's 1kg.
Not Delia's Crumbed Mussels
Ingredients
a handful of fresh breadcrumbs
a tablespoon of soft butter – enough to hold the mixture together
1 garlic clove, chopped
a couple of tablespoons of chopped coriander
a few slivers of red chilli
a splash of lime juice
Method
Exactly the same as Donna's. Mix the ingredients in a bowl. Put a spoonful on top on each mussel. Place under a hot grill until golden brown.
Cook's Note: If you're not sure about how to cook mussels, please see Mussels – a shut and open case, which explains how to ensure your mussels are OK to eat.
Steaming the mussels is also the first step of making mussel soup.