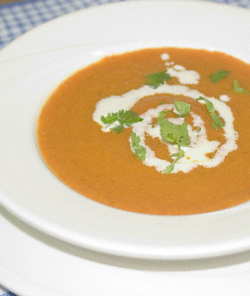 This was a real favourite in the 1980s, although it has stood the test of time and is still popular. I was having one of my "use it or lose it" days and a glut of carrots emerged from the fridge's vegetable drawer. They were a little bit past their best, so no use for a salad but perfectly OK for soup. Carrot and orange soup was the obvious choice.
There are lots of quick and easy recipes for carrot and orange soup on the Internet, but I was curious to see if there would be one in The Prawn Cocktail Years. Surprisingly, there wasn't.
I did, however, find one for a quick and easy carrot and orange soup in The New Book of Soups by Anne Sheasby (review coming soon).
Anne Sheasby's recipe for carrot and orange soup
Ingredients
(serves 4)
50g/2oz/¼ cup butter
3 leeks, sliced
450g/1lb carrots
1.2 litres/2 pints/5 cups chicken or vegetable stock
rind and juice of two oranges
2.5ml/½ tsp freshly grated nutmeg
2.5ml/¼ pint/⅔ cup Greek (US: strained plain) yoghurt
salt and ground black pepper
fresh sprigs of coriander (US: cilantro) to garnish
Method
Melt the butter in a large pan. Add the leeks and carrots and stir well, coating the vegetables with the butter. Cover and cook for about 10 minutes until the vegetables are beginning to soften but not colour.
Pour in the stock and the orange rind and juice. Add the nutmeg and season to taste with salt and pepper. Bring to the boil, lower the heat, cover and simmer for about 40 minutes, or until the vegetables are tender.
Leave to cool slightly, then purée the soup in a food processor or blender until smooth.
Return the soup to the pan and add 30ml/2 tbsp of the yoghurt, then taste and adjust the seasoning, if necessary. Reheat gently.
Ladle the soup into warm individual bowls and put a swirl of yoghurt in the centre of each. Sprinkle the fresh sprigs of coriander over each bowl to garnish and serve immediately.
Not Delia's version of carrot and orange soup
I more or less followed Anne's recipe but, as usual, didn't measure anything. I had to change a few ingredients too, to suit what I had readily available.
I didn't have any leeks handy, so I used a large chopped onion instead. And some garlic. I didn't have oranges either, but not to worry, a glass of orange juice from a carton provided a good substitute.
Also my yoghurt was too thick to swirl for a pretty picture so I tried swirling pouring cream instead for my second go. That worked better.
I more or less followed the same method too, although I saved on washing up by puréeing the soup in the pan with a hand held blender rather than using a food processor or blender.
Here's what I did.
Chop and sweat off the onion. Meanwhile peel and chop the carrots. Chuck in the carrots as you go along. Sweat them all off till they're softening but not browning.
Add the orange juice and the hot stock (made from water and a couple of vegetable stock cubes). Add a few twists of freshly grated nutmeg. (I have a nutmeg grinder, which is a super little piece of kit.)
Simmer until the carrots are soft. Remove the pan from the heat and purée using a handheld blender.
Turn the heat on again and bring back to the boil.
Ladle into a soup bowl and garnish with a swirl of pouring cream and some chopped coriander. (Parsley would be nice too.)
Faff about for twenty minutes or so taking photos of the darned thing.
Reheat in microwave and serve.