A delicious vegetarian haggis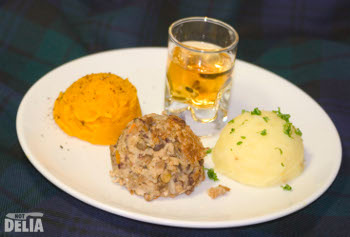 Well, I must be crazy trying to make a veggie haggis again after my disappointment with the Vegetarian Society's recipe. But with Burns Night rapidly approaching on 25 January, I was determined to create a recipe for a tasty vegetarian haggis. And, at last, success on a plate. (As well as a wee dram as a reward.)
If any you haven't been following my Not Delia blog, here's the problem. I'm a Scot in exile and my local shop doesn't sell haggis (I don't know why not). I could possibly manage to get a neep but a tiny one costs about £6 in the posh supermarket with all the imported goods, so we're going to have to improvise.
I've already managed to recreate bashed neeps using pumpkin but the quest to create an acceptable haggis has proved to be a bit more problematic.
Finally, I have found the Holy Grail. And I'm willing to share it with you. If you want a recipe for a more traditional haggis, there's one on my other website as well as a humorous piece about a DIY Burns Night by Mike Clark.
I'm giving you the ingredients and method in two parts. You need two pans for this: one for the actual cooking of the "haggis" and one to prepare the things like the pearl barley and lentils. Ideally, you'll be able to do both at once, but if not, then you can use the Pan 1 stuff as a prerequisite for Pan 2.
I made the haggis in a wok. Yeah, I know it's not traditional but my Meyer professional wok just seemed to be ideal for the purpose. Hey! It worked, so don't be afraid to try new things. This is not a difficult recipe, it's just a little bit complex, and probably isn't suitable for anyone who's not an experienced, confident and competent cook. Good luck, and please let me know how you get on.
We got 16 small scoops out of this, so you could feed 16 as a starter. If it's intended to be a main course then I'd guess you'd give larger portions and maybe feed six.
Ingredients – Pan 1
1 veggie stock cube
1 pint water
50g pearl barley
70g lentils (red and brown, mixed)
Method – Pan 1
Put the water into a pan and add the stock cube. Bring to the boil.
Wash the barley and lentils. (Stick them in a sieve and run water over them until the water's clear.) Add the pearl barley to the boiling water and simmer for about 10 minutes until it's starting to soften up a bit. Then add the lentils.
Continue to simmer until they're all cooked.
Drain and reserve the liquid.
(You need extra liquid later in the process so you might as well keep back this stock.)
Set the pearl barley and lentils aside for the next step.
Ingredients – Pan 2 (the wok)
1 tbsp butter (or vegetable oil for a vegan version)
1 medium onion, chopped (about 100g)
1 medium carrot, chopped (about 50g)
50g mushrooms, chopped
½ tin kidney beans (150g-ish), mashed, but not too finely
30g hazelnuts – chopped
30g peanuts – chopped
200g rolled oats
2 tbsp soy sauce
1 tsp dried thyme
1 tsp dried rosemary
salt and loads of freshly ground black pepper, to season
Method – Pan 2
Sweat off the chopped onion and carrot on a lowish heat on the stove top.
Add the mashed kidney beans and keep things going. If at any stage you look to be in danger of burning the stuff, just turn the heat off, add your ingredients, and bring it back to hot when you're ready.
Now add the chopped nuts and the oatmeal. Add the stock you kept back from the barley and lentil mix.
Add the herbs and soy sauce.
Bring to a simmer. Simmer for about 20 minutes, adding extra water as necessary.  Add the cooked barley and lentils towards the end of simmering.
Taste and season well with salt and pepper.
Serve with champit tatties, bashed neeps, and a wee dram for the gravy.