Not Bashed Neeps (Mashed Swede)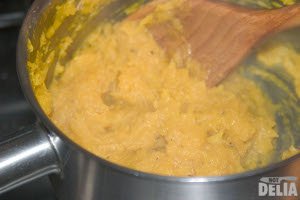 As St Andrew's Night approaches (30 November), my fellow Scots in exile worldwide are likely to be wanting some traditional Scottish cooking. Bashed neeps to go with the haggis and champit tatties) would be just the job. Well, I'm currently in Bangkok, and whilst you can get them over here (they're a sort of yellow-fleshed turnip – our Sassenach friends call them swedes), they're prohibitively expensive. I don't want to pay £6 for a neep the size of a tennis ball. (Typical Scot!) So I messed about with various alternatives.
The obvious one is to try mixing various things with puréed carrots. Hmmm. But I think I cracked it today. Pumpkin is the answer.
Here's what I did.
Method
Wash and peel the pumpkin and cut into chunks.
Sauté in butter to soften a little, then add a little boiling water (not too much, you want the pumpkin to absorb the water rather than have to drain it afterwards) and simmer for a while until you can mash it with a tattie masher.
Season with salt and pepper, more butter if liked, and perhaps a wee bit of ground nutmeg. (I know nutmeg isn't traditional, but it really does give it a lift.)
It looks almost like swede and tastes pretty good so I don't think you'll be disappointed. It's not a bad cheat anyway if you're stuck for a swede.
Good luck, and please let me know how you get on by commenting.