A truly revolting vegetarian haggis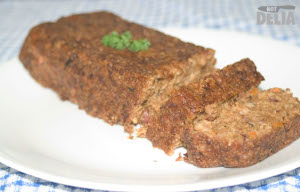 Vegetarian haggis? Hmmm. I'm not a vegetarian but my local shop doesn't sell haggis, and I didn't fancy messing about with sheep's lungs and stuff. I decided to have a go at making the Vegetarian Society's vegetarian haggis recipe. Here it is:
Ingredients
100g/4 oz onion, peeled & finely chopped
15ml/1 tbsp sunflower oil
50g/2 oz carrots, very finely chopped
35g/1½ oz mushrooms, finely chopped
50g/2 oz red lentils
600ml/1 pt vegetable stock
25g/1 oz mashed, tinned red kidney beans
35g/1½ oz ground peanuts
25g/1 oz ground hazelnuts
30ml/2 tbsp shoyu (soy sauce)
15ml/1 tbsp lemon juice
7.5ml/1½ tsp dried thyme
5ml/1 tsp dried rosemary
generous pinch cayenne pepper
7.5ml/1½ tsp mixed spice
200g/8oz fine oatmeal
Freshly ground black pepper
Method
1. Pre-heat the oven to 190°C, 375°F or Gas Mark 5
2. Sauté the onion in the oil for 5 minutes, then add the carrot and mushrooms and cook for a further 5 minutes.
3. Now add the lentils and three-quarters of the stock.
4. Blend the mashed red kidney beans in the remaining stock, add these to the pan with the nuts, shoyu, lemon juice and seasonings.
Cook everything, well mixed together, for a further 10 to 15 minutes.
5. Then add the oatmeal, reduce the heat and simmer gently for 15 to 20 minutes, adding a little extra liquid if necessary.
6. Turn the mixture into a lightly oiled 1lb loaf tin and bake for 30 minutes.
7. Serve with mashed neeps and tatties.
[Source: from a press release by the Vegetarian Society]
Here's how I got on. I tasted the mix before putting it into the loaf tin, and it was very, very bland – almost tasteless – so I chucked in the Not Delia favourite cheat ingredient: Marmite (about a tablespoon), some dried parsley and an extra few grinds of black pepper. Yep, better, but still kind of tasteless and a bit textureless. I'll try again to get this cracked before Burns Night (25 January).
Verdict
Mr Not Delia (not a Scot but he likes haggis) tactfully said that he preferred the real thing. Then disappeared quickly out of the kitchen before being pressed for further comments. That's not like him, he's usually hovering around if he thinks he may be able to snaffle something to eat.
And my verdict? I thought it was no less than truly revolting. I've had Macsween's vegetarian haggis and liked it, so a nice, tasty vegetarian haggis is possible. This just wasn't it. Back to the chopping board…
Edit: As you can see from my comment below, I have had a go at creating my own vegetarian haggis recipe – and I flatter myself that the result was pretty damn good.