Not Delia minces meat, not words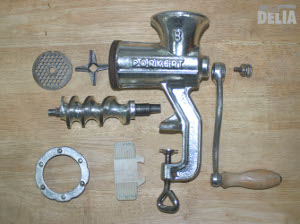 I never buy meat which has been minced. I always buy meat and make my own mince – that way I know what's in it. I don't count calories but I expect that those of you who do would want to know the fat content of your mince.
You can chop up meat in the food processor but it tears the meat and simply doesn't result in the same texture. So, let's have a look at this mincer. It's a Porkert No. 8 cast iron hand operated mincer. It's a pretty robust piece of kit – mine's been in frequent use for almost a decade and it's still as good as new. You can see all the parts of it laid out on the work table in the photo above. And below, a picture of it assembled and ready for action.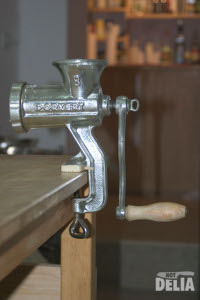 Now it's a simple job of putting cubes of meat in the top, cranking the handle, and collecting the mince that comes out the other end. Simple. Especially if you can get someone else to crank the handle for you. Funnily enough, men seem to like this job. Perhaps it gives them a chance to show off how strong they are.
Whatever you do, keep your fingers out of funnel-shaped bit at the top where you put the meat in. I prefer to put the meat in a with a pair of tongs anyway as I don't like handling raw meat if I can avoid it.
You can mince just about any boneless raw meat: beef, pork, lamb, chicken, turkey etc. I'm making pork mince in the photos.
I prefer pork to beef and use pork mince for loads of things.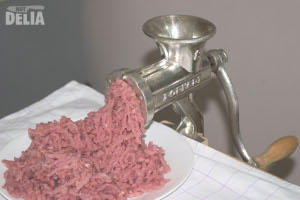 And here's the end result – a plate of minced pork. You can portion it into bags and freeze it for future use, or go straight on and use it in your recipes.
What sort of things do I make with pork mince? All kinds of things! Pork burgers, sage and onion stuffing, Thai lettuce parcels, etc. I'll get some more pork mince recipes uploaded soon.
I like the cast iron mincer because it's a tough piece of kit. You can buy mincers that are a bit better looking, but I think they look a bit housewifey and I doubt if they would last very long. Get yourself a proper mincer! Nisbets sell one very similar to mine for £24.99. Proving, yet again, that good doesn't have to mean expensive.
This should be adequate for most domestic purposes, but if you're feeling flush, not wanting to use the elbow grease to crank the handle, or do a lot of mincing then an electric mincer might be ideal for you. Nisbets has a good range of meat mincers. Here's the electric mincer I'll buy when I win the lottery. (It's £369, gulp.)
Nisbets only deliver within the UK. If you live outside the UK, or want to shop around first, why not have a look at Not Delia's Amazon Cook Shops instead?
Not Delia's Cook Shop: UK and EU (prices in £)
Not Delia's Cook Shop: non-EU (prices in US $)