Pork escalopes with a creamy mustard sauce
I love pork and you can make some pretty good meals fairly quickly and easily with a piece of pork tenderloin. Today I'm making pork escalopes with a creamy mustard sauce.
This probably took about half an hour from start to finish. The mashed potatoes took the longest, so you'd be best to get them on the go first. The half an hour estimate, of course, doesn't include faffing about with taking photos.
There are lots of different things you can do with a piece of pork tenderloin, and making escalopes is just one of them. You can see some ideas of things to do with a pork tenderloin and a definition of escalope from my earlier postings.
As you can see from the photos on the right, I've taken a pork tenderloin and cut it into medallions.
The next step is to flatten the medallions into escalopes using a meat mallet. It's best to cover the meat with Klingon before whapping it, unless you like to have blood-splattered kitchen walls.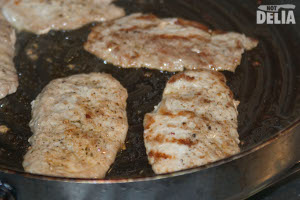 Then you season them with salt and pepper or whatever you like and pan fry them.
Take them out of the pan and leave them in the warming drawer or warm oven while you make a sauce, if that's what you're going to do. I just chucked some brandy into the pan, boiled off the alcohol, added some whole-grain mustard and some cream. Chuck in a bit of sage too if you have it.
Then I served it all up with mashed potato (home-made, not like Mrs Smith's frozen stuff), buttered cabbage and Portobello mushrooms. Delicious!
If you really feel the need for a proper recipe, there's one here for pork escalopes and leek with mustard sauce.
Nisbets sell a nice looking metal steak hammer for flattening meat for only £5.29. I don't own such a thing, although I'd like to. I've got a wooden one I bought somewhere on my travels. It's good enough, though, and it does the job perfectly well.