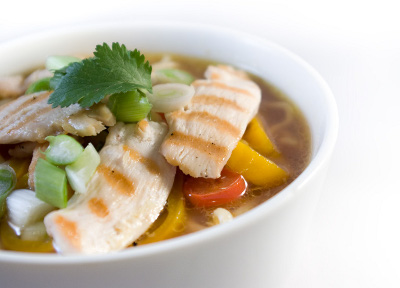 Hello, my name's Matt and this is the first of, what I hope to be, many guest posts on Not Delia. The first recipe I'd like to share with you is for a simple but delicious Japanese Noodle Soup.
It's very light, sweet and tasty and you'll feel good after slurping up the noodles. Enjoy cooking it and check out my blog foodforfriendsyeah! for more of my recipes. You may even see recipes from Not Delia as well!
Japanese Noodle Soup
(serves 2-3)
2 stalks lemon grass, chopped
1 ½ inch piece of ginger, chopped skin on
2 garlic cloves, chopped
2pt/1l chicken stock (2 stock cubes makes enough)
1 red chilli, seeds removed and finely sliced
2 tbsp soy sauce
3 tbsp sherry
2 tbsp honey
1 chicken breast
1 red pepper, thinly sliced
2 servings of noodles, cooked or straight to wok
2 spring onions, diagonally sliced
coriander, to garnish
Put the lemon grass, ginger and garlic in a blender and pulse for a few seconds.
Pour a little groundnut or vegetable oil in a large saucepan and spoon in the blended mixture. Fry on a medium heat for 2-3 minutes.
Add the chicken stock, chilli, soy sauce, sherry and honey. Bring to the boil, reduce the heat and simmer for 10 minutes.
Meanwhile griddle or pan fry the chicken until it's cooked through.
Pass the soup through a sieve, discard the bits and return to the saucepan. Add the peppers.
Heat up the noodles in some boiling water. Drain and divide between 2-3 bowls. Pour the soup over the noodles and top with the chicken and spring onions.
Serve garnished with the coriander. Eat. Slurp.