The thought of boiled cabbage normally has people running for the hills, but cabbage doesn't have to be like that. I love cabbage with plenty of butter and a generous grinding of black pepper. But I don't boil it. Here's how I make it, but first let's see what Darina Allen has to say on the subject. (This is from page 166 of the Ballymaloe Cookery Course, which was one of my Top Ten books for 2008.)
Irish people usually boil cabbage for ages, so when I cooked it this way on my TV programme some years ago it caused a sensation. This method takes only a few minutes to cook but first the cabbage must be carefully sliced into fine shreds. It should be served the moment it is cooked.
Ingredients
450g (1 lb) fresh Savoy cabbage
25-50g (1-2 oz) butter
salt and freshly ground pepper
a knob of butter [to serve]
Method
Remove the tough outer leaves from the cabbage. Divide into 4, cut out the core and then cut into fine shreds across the grain. Put 2-3 tablespoons of water into a wide saucepan with the butter and a pinch of salt. Bring to the boil, add the cabbage and toss constantly over a high heat, then cover for a few minutes. Take care it doesn't boil dry. Toss again and add some more salt, freshly ground pepper and a knob of butter. Serve immediately.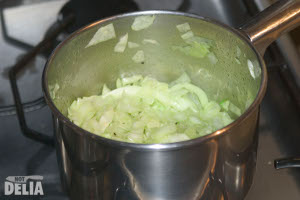 I couldn't get savoy cabbage and had to make do with white cabbage. That's why it looks a bit, erm, white in the picture above. I did pretty much the same as Darina – add a tiny bit of water and let it steam gently. It comes out all lovely, buttery and crunchy. As you can see from the second photo, it melts down quite a lot during the process to about half the initial volume.
(You might also notice that the cabbage now looks a lot greener too. OK, OK, so I added a couple of drops of green food colouring in an attempt to get a better looking photo. At least I admit it when I cheat. There are no lies on Not Delia.)
By the way, I don't think you really do have to serve it immediately, as Darina says. Nor did I find the need to put so much salt in it. You can make it ahead of time and reheat it quickly just before serving. The main thing is that you shouldn't overcook it.
Ballymaloe Cookery Course by Darina Allen
Hardback, 640 pages
2007, Kyle Cathie Ltd
ISBN 185626 410 6