Parma Ham and Melon Balls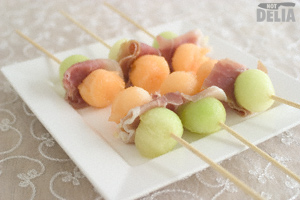 Here's a nice tapa dish that's very quick and easy to prepare. There's no cooking involved either, good for the no-cook recipe fans. I love cooking!
Ingredients
a melon
a packet of Parma ham
skewers
(I was lucky enough to have both a sweet orange honeydew and the even sweeter green-coloured Japanese melon. The contrast in colour was nice but not essential.)
Method
Use a melon baller to make melon balls. (If you don't have a melon baller then just make melon cubes. It tastes so nice no one will care what shape the melon pieces are.)
Thread the melon pieces and Parma ham onto a skewer.
That's it! Now, how long did that take?
Here's a book where you can find more ideas of things to do with salami, Parma ham and other charcuterie products:
Salumi: Savoury Recipes and Serving Ideas for Salame, Prosciutto, and More
Joyce Goldberg and John Piccetti
Hardback, 144 pages
2009, Chronicle Books
ISBN 978-0-8118-6424-4
RRP: £16.99