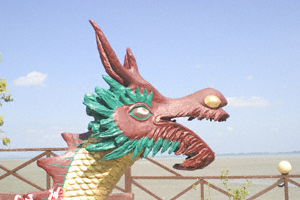 42 Gurney Drive
10470 Penang
After our disappointment at Shenanigans in Tanjung Tokong, we were keen to move on and try somewhere else. It was that limbo time in the afternoon – too late for lunch and too early for dinner.
When we spotted the Oriental Seafood restaurant, which is situated right on the sea, just off the roundabout at the western end of Gurney Drive, we decided that perhaps a nice cold beer in a seaside place would suffice and if they could offer any snacks, then all the better.
The place looked pretty much closed as there were no other customers there, although the staff appeared to be ready for action. They clearly do a roaring trade at dinner time and offer a wide variety of set meals for tables of ten as well as an extensive à la carte menu. It looked as though they've found a good niche for themselves and are very successful at what they do.
We weren't sure if it would be OK for us to just sit and have a beer but the friendly supervisor, Mr Sam Goh, assured us that we were very welcome, and had a waiter bring us menus as well as our two cold beers.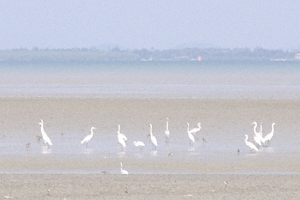 It was a really nice place with the bonus of some interesting wildlife to watch. There were large white birds on the beach ahead of us (migrants from Indonesia, apparently), and crabs and some strange mudfish type of creatures in the stream beside us. It was quite fascinating! Mr ND got some practice in with his newish video camera.
We ordered a couple of snacks, although we were told that they might take a little bit of time to prepare. I think the Oriental Seafood isn't really geared up for daft tourists who show up in the middle of the afternoon. We said that we weren't in any hurry so if it wasn't a problem for them to make it, it wasn't a problem for us to wait.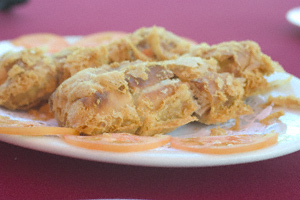 In the event the snacks (crab spring rolls and chicken satay) arrived not long after, and were delicious.
All in all we had a very pleasant afternoon there. Very nice staff, cold beers, tasty snacks and the fun of watching the wildlife.
As the afternoon wore on the place started to bustle a bit as more staff arrived and prepared for the dinner service – it looked as though they expected to be busy! We thought it was time to move on and prepared to go. One of the senior staff (perhaps the manager or owner) assured us that there was no need for us to leave, we were welcome to stay as long as we wanted. But it was time for us to hit the road.
It would be unfair to give the Oriental Seafood a rating on the food side as we didn't sample what they specialise in. But I would say that I wouldn't hesitate to go back again for more the next time we're in Penang. We had a lovely time there.