I recently posted about Crispy Aromatic Duck and how it's a bit of a faff and expensive to make. Now I'm going to show you the cheat's version I created.
Why is it Not CAD? Well, for starters there's no duck in it. I'm using pork tenderloin, which produces a slightly different but equally tasty – in my opinion, tastier – result. Have a look and see what you think.
Ingredients
For two little pancakes – this would make a good starter for one person, so just multiply up for more people.
2 Chinese pancakes, home-made or shop-bought
1 spring onion – finely sliced into strips lengthwise
1 piece of cucumber, julienne cut
1 thinnish (about half an inch) slice cut off a pork tenderloin, and cut into thin strips
1 tsp hoisin sauce (from a jar)
salt and pepper
oil for frying – preferably sesame oil but any cooking oil would do
Method
Make or buy the pancakes.
Season the meat with salt and pepper and a little oil.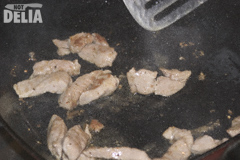 Brown the meat in hot oil in a frying pan or wok. Once the meat is browned, turn the heat down a little to cook it. It should be a nice sticky-looking brown colour.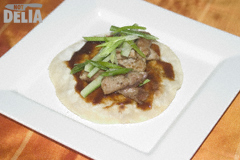 Spread the pancakes with hoisin sauce. Add the meat. Add the spring onions and cucumber and roll up. If you're cutting the finished pancakes in half, it looks nice to cut at an angle rather than straight across the middle.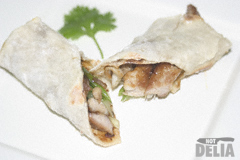 How easy was that? Enjoy!
I've made cocktail-sized versions of this for various parties we've held and people invariably love this dish and scoff it up. I don't even suppose anyone thought about whether it was really duck or not, they were enjoying it so much.