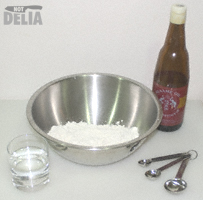 I find that Ken Hom's book Foolproof Chinese Cookery is usually a reliable source of recipes that work. I follow his measurements (except that I only use half his measures) and method (sort of) to make Chinese pancakes. Chinese pancakes are good for things such as Peking duck and the eternal British favourite, crispy aromatic duck – commonly known as CAD. You could also use them instead of tortillas or even to mop up a curry instead of naan or chapatis.
These pancakes are quick and easy to make. You can store them in the freezer too, so if you make a big batch you'll always have some on hand.
Ingredients
(makes about 8 large or 12 small pancakes)
140g/5 oz plain (all purpose) flour, plus extra for dusting
125 ml/ 4 fl oz very hot water
1 tbsp sesame oil
Method
Put the flour into a mixing bowl and gradually add the water, mixing all the while until the water is fully incorporated. I used a fork to do this. If the mixture seems too dry, add some more water.
Turn the dough out onto a lightly floured board and knead it until it becomes silky smooth. This should take 5-10 minutes. Dust it with flour if necessary, as it'll probably be quite sticky at this stage. Once it's smooth, cover it with a damp tea-towel and let it rest for about 30 minutes.
Knead the dough again for another 5 minutes, dusting with flour as necessary. Roll it into a sausage shape and cut into slices according to how many pancakes you want to make and what size you're making. (Experiment with one slice first to give yourself some idea of the likely result.)
Shape each slice into a ball.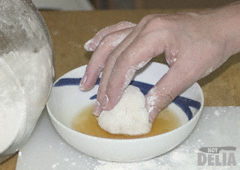 Now we're at the rolling stage. This is where Ken Hom and I differ. He next goes on to use two dough balls at a time to make a double pancake which is subsequently split into two at the end of the rolling and cooking process. I'm afraid that when I tried that I ended up with one very large pancake rather than two which were separable.
Here's my method. Dip the dough ball into the sesame oil and roll into a circle. If you're not an accurate roller (I can never roll out a perfect circle) and you want pancakes of uniform size and shape, simply cut round a plate or a bowl.
Heat a little sesame oil (a quick wipe of oil is plenty, rather than enough to shallow fry) in a suitable pan over a low flame. Put the pancake into the pan and cook on one side until it has dried underneath. Expect to see brown speckles. Flip it over and repeat on the other side. Repeat this process until all the dough balls are cooked.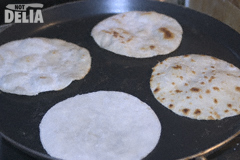 I started off making a large pancake (the result of two balls sticking together) which turned out fine but then I thought that a cocktail version might make a more attractive presentation, because my next step was to use the pancakes to make Not Crispy Aromatic Duck.
You can of course cheat and buy ready-made ones. Last time I looked they were about £1 for 10 pancakes in the supermarket – after all, it's only flour and water with a little bit of oil. I think it's much more satisfying to make my own.
Foolproof Chinese Cookery
Ken Hom
Hardback, 128pages
2000, BBC Worldwide
ISBN 0 563 55133 X