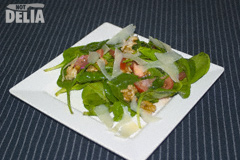 Even though a salad is often very simple to make, it can also be very tasty. I had some rocket in the house and decided to turn it into a quick and easy salad.
As long as you make a tasty dressing this salad makes a lovely starter or side dish. You could serve it with some crusty bread drizzled with olive oil for a healthy snack.
Ingredients
(per person)
A couple of handfuls of rocket leaves
1 or 2 tomatoes (depending on the size of the tomatoes and your preference)
A small handful of walnuts, roughly chopped (I would normally use pine nuts for this type of salad but decided to try walnuts for a change)
Dressing – it's very important to have a tasty dressing, whether it's home-made or shop-bought. You can read how I make a simple but tasty vinaigrette here
Parmesan cheese – for garnish
Method
It couldn't get much simpler. Put the rocket leaves and slices or dices of tomato into a bowl and toss well in whatever dressing you're using. Put on a plate, sprinkle on the nuts and garnish with shavings of Parmesan cheese. I use a vegetable peeler to make the shavings.