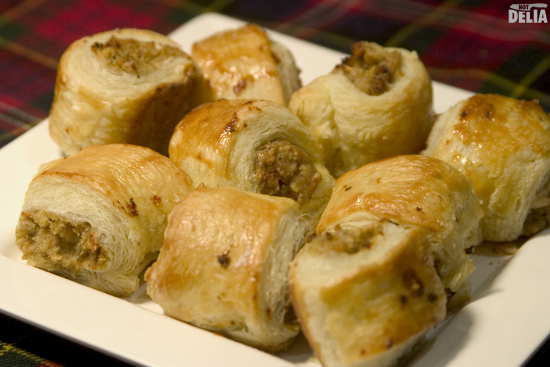 I guess it was a case of nostalgia kicking in but I had a sudden desire for sausage rolls. I never buy this sort of thing from a shop – I always like to know exactly what's in any meat product such as mince or sausages. So, the obvious answer was that I'd have to make my own. You can see them in the photo above.
I researched a bit on the internet to see how others make them. The Word of Mouth blog on The Guardian has just about every angle covered with their How to make perfect sausage rolls article. Here we learn about how Simon Hopkinson and Lindsey Bareham (they of The Prawn Cocktail Years fame) make them. It's rather complicated, apparently. Delia Smith has a quick way. Jamie Oliver recommends good Cumberland sausages. And so on – read it for yourself if you're interested.
I decided just to do my own thing (for a change, ha ha). I had some home-made pork and leek sausages (uncooked) and a packet of ready-made puff pastry already in the freezer. From there it was a quick assembly job. And so easy too. Try some, especially if you're expecting friends or family – or even if you're not!