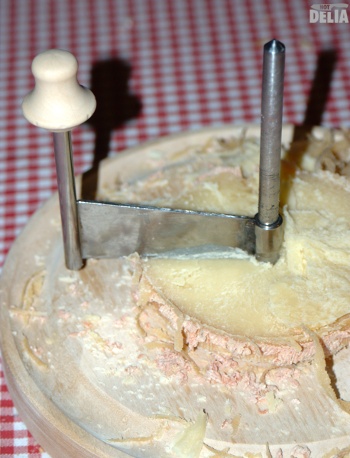 Whilst staying at our favourite home from home in Bangkok, the Domino Pub & Restaurant, we were lucky enough to be invited by co-owner Peter to sample a Swiss speciality cheese with a difference – Hobelkäse, which translates into English as "plane cheese". But it's got absolutely nothing to do with the flavourless rubber you often get served in airline meals!
The word Hobel is the German word for a plane, as in the woodworking tool used to take shavings off pieces of wood to leave them smooth and flat. You can see why it's called that from the photo – it's the first time Mr Not Delia and I have ever seen a cheese cutter quite like this!
Berner Hobelkäse has protected geographical status – it has to be produced in the Alps of the Berner Oberland from the fresh (not more than 18 hours old) untreated milk of cows grazed on organically fertilised meadows. Apparently it's also high in omega-3 fatty acids and polyunsaturates, so it's less harmful for your arteries than many other cheeses. Not that I'd let something like that stop me eating something tasty.
So how does it taste? It's an extra hard cheese that's been matured for anything up to two-and-a-half years, so you'd expect it to be pretty strong and sharp – and it is. Absolutely delicious!