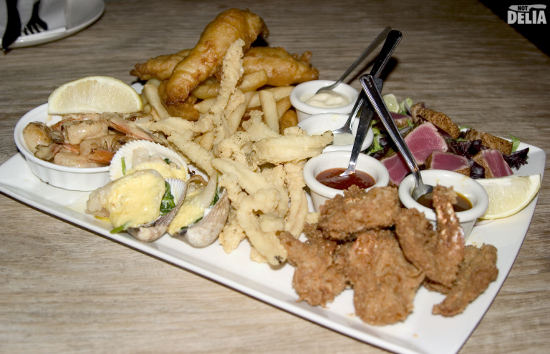 60 Robertson Quay
#01-15 The Quayside
Singapore 238252
We'd actually had no idea of eating at Boomarang at all – we'd intended to visit another restaurant on Robertson Quay, but neither we nor our very helpful taxi driver were able to find it. So he brought us back to our hotel (at the other end of the quay) and suggested that we might find it if we walked along the quayside – or we might find somewhere else we fancied instead.
This proved to be very sound advice, as Robertson Quay has plenty going on at night. We passed several interesting-looking bars and brasseries (including Brasserie Wolf), but no sign of our intended destination. In the end I sent Mr ND on ahead to see if he could find it, while I followed behind at a more sedate pace.
Shortly after he'd disappeared I stumbled across Boomarang. (Yes, that's how they spell it – with a boomerang in their logo in place of the "a".) It looked welcoming – neither too brightly nor too dimly lit – and the menu looked appetising. I was tempted to sit down for a beer and propose to Mr ND when he returned that we abandon Plan A and eat here instead. Unfortunately I then realised that he'd sodded off with all the money. Not to worry, the staff let me sit down anyway. And when he did return he was very amenable to the idea of eating at Boomarang.
The food at Boomarang is hearty stuff – plenty of meat and fish, grilled meals, pizza, schnitzel and burgers. But it's done with attractive, high quality ingredients. None of your value burgers here – but if you fancy a Wagyu beef burger, then you're in luck!
We ordered the seafood plate – one of a handful of menu items grouped under "Things to share" – and a side salad, with a bucket of Tiger to accompany. At 60 Singapore dollars (about £30) the platter wasn't a cheap option by any means, so we were looking forward to a real treat. We weren't disappointed, either!
The fish & chips would have been pretty generous on its own. Barramundi is quite a meaty fish, and denser than the cod or haddock I would normally prefer for F&C, but this was cooked very nicely. The chips were a bit of a disappointment compared with the rest of the meal, but they were as good restaurant frozen chips as you'd find anywhere. Potato wedges were also served, which was a good touch.
The clams au gratin were creamy and tasty. They were served on a bed of some sort of weird green leafy vegetable which wasn't spinach and wasn't watercress, but was enjoyable all the same.
The garlic cream prawns were succulent and had been cleaned by pulling out the intestinal thread, not by slitting the prawn down the back. There was absolutely no trace of any muck, so full marks there!
The coconut crumbed prawns were – yeah, nice. Certainly a cut above your normal breaded prawns, though not as juicy as those gorgeous garlic prawns.
The pepper and lime calamari were perfectly cooked, with not even the slightest hint of rubberiness. Tasty, too.
The tuna was perfectly seared (to medium rare as stated) in a nice spicy Cajun coating, the taste of which got more intense towards the end, as you might expect.
The dips were all great, including the orange marmalade dip which I hadn't fancied the sound of (I'm not very keen on marmalade) but which went very nicely with the tuna.
The side salad was OK. In the context of the platter it was nothing very special, but after all we'd ordered it as a side dish. Anywhere else it would have been very good – but the platter just put it in the shade. It managed to incorporate sun-dried tomatoes without seeming too obviously late Nineties, plus the tasty Japanese leaf, mizuna.
We ordered a bucket of Tiger (five large bottles; they gave us an ice bucket and brought us the beers as we needed them) which lasted us very well.
The toilets were both reasonably clean and maintained OK. But the waste paper bin in the ladies' toilets hand-washing area was overflowing, and the bins generally had been put under shelves which made them a bit difficult to get into. This wasn't too much of a problem, though, as they had high-tech hand-drying gizmos – you put put your hands into the bottom of a plastic bucket and pull them out slowly through a curtain of warm air which blows the moisture downwards off your hands. It looked a bit like a trouser press to me, but Mr ND gave it a go and found that it worked.
The disabled toilet was spotless, could be reached by ramp access from street level, and had a sliding door – very convenient.
There's plenty of stuff going on at the Boomarang to draw you in there, as if the quality of the food and the friendly and efficient service wasn't enough – they have quiz nights on a Tuesday, plenty of sports on several TV screens, the UK and Australian newspapers at weekends, WiFi, a kids' menu… They even have dog bowls if you want to take your pets, although personally the idea of dogs in restaurants (other than service dogs) is a no-no for me. Anyway, you can find out more about them on their website.
Overall rating: 4 out of 5
After our disappointing experience at Wine Connection that lunchtime, we were quite anxious about whether we'd get a proper feed in the evening. We certainly did, and we'd happily go back to Boomarang again on a future visit to Singapore.