The Prawn Cocktail Years by Simon Hopkinson & Lindsey Bareham – a review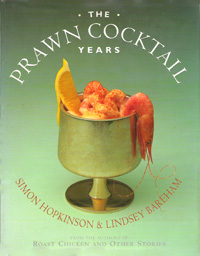 Simon Hopkinson established himself early on as a successful British chef, after opening his own restaurant before he was 21. He swiftly, and deservedly, found himself as one of Britain's most acclaimed young chefs, and his friendship with one particularly good customer, Terence Conran, led to other successes. He retired as a chef in 1995 to concentrate more on writing. His first book, Roast Chicken and Other Stories, also written with Lindsey Bareham, won several awards including the Glenfiddich Award.
Lindsey Bareham made her name as a restaurant critic and food writer. Twenty years of reviewing the best and worst restaurants gave her a unique background for cookery writing. She has previously authored several other successful cookbooks.
I own both of the books by this duo, Roast Chicken and Other Stories and The Prawn Cocktail Years, but I use the latter more so it is this which I'm reviewing this time.
The premise of the book is that, as food fashion has changed, some dishes have been "loved and lost". In many cases this is a good thing – brown Windsor soup, anyone? But some dishes are inherently Good and, despite going out of fashion, remain popular to this day. "Everybody, but everybody, loves Prawn Cocktail".
Dishes which were once exciting (Coq au Vin, Spaghetti Bolognese) "have been slung out like old lovers, while we carelessly flirt with the flavour of the month".
The authors' "mission" is to rehabilitate these classics – and they are classics because they've stood the test of time – in "a country now obsessed with culinary novelty". All the dishes in the book "have the potential to be truly excellent", and were good in the first place. As stated in the book's introduction: "The purpose of this book is to redefine the Great British Meal and rescue other similarly maligned classic dishes from years of abuse…"
There are eight chapters, taking us through the eras of Great British dining out. From the 1950s hotel dining room to the Gentleman's Club, the Sixties Bistro, and more, culminating in Chez Gourmet. It's an interesting culinary tour through modern social history.
Having lived abroad for many years, we eat all kinds of food – Indian, Thai, Lebanese, and Italian mainly – but sometimes nothing but a good old-fashioned British favourite will do. And that's when I reach for this book for ideas. Some of the photography is wonderful and makes you think, "Cor, I fancy that!" Flicking through just now I just spotted a picture of Cornish Pasties. Had I not already got all the ingredients ready for tonight's meal (Korean) I would've been making pasties tonight!
However, for my taste, there aren't enough photos in the book. I like to see a picture of everything! Given that I don't really follow the recipes anyway, it's better if they show a picture of what it's supposed to look like. But that's just a personal preference.
Most of the recipes come with a bit of nostalgia or other interesting observation wittily written. On Trout with Almonds (Sixties Bistro chapter) they have this to say: "Finding a wild river trout these days is about as easy as not coming across sun-dried tomatoes on the menu of yet another fashionable restaurant." (Remember the book was published in 1997. Maybe a future book will be called The Sun-Dried Tomato Years.)
There are plenty of good things to try here, not new ideas but all good classic stuff. It's a handy reference point if you want to make an old favourite. It's also an informative and entertaining read if you're interested in food. The recipes are good and varied with several different cuisines. After all, Spaghetti Bolognese (the Tratt-era chapter) – a firm British favourite – isn't exactly traditional. "Why this became the great student stand-by is a mystery. Carbonara would have been a) cheaper, b) easier to prepare, and c) possibly less difficult to turn into a complete disaster."
This book is worth buying if you love all these old favourites; I use it fairly often and will vouch for their Prawn Cocktail recipe (if you'd like to find out more, please see my attempt at it and the accompanying photo essay). For once I did actually follow the recipe and the result was superb. [Don't go overboard on the modesty – Sub Ed.] I'm glad it's in my collection.
The Prawn Cocktail Years
Simon Hopkinson & Lindsey Bareham
Hardback, 256 pages
1997, Macmillan
ISBN 0 333 68460 5
RRP: £20.00