Donna Hay's Modern Classics Book 1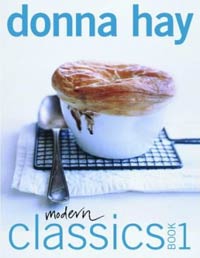 This is a relatively new addition to my collection, although it was published in 2002, but it's already well-used and one of my favourites. Donna Hay is one of Australia's best known food writers, with a string of internationally bestselling and award winning books.
As the blurb inside the front cover says, "Donna Hay takes the food from the past we love the most and makes it irresistibly new. Then she looks at the best of what's new and turns it into a cooking classic."
In this book she takes a commonsense approach, with plenty of "how to" advice. This, accompanied with stunning photos not only of the finished dishes, but also of the method in some cases, makes this an indispensable reference guide and source of ideas in the kitchen.
Excluding the introduction, a section on kitchen tools, glossary, and conversion chart, there are six chapters. These cover: soup; salads; vegetables; roasts & simmers; pasta, noodles & rice; and pies & tarts. (Desserts are covered in a later book.)
The photos (by Con Poulos) in this book are very inspiring and a quick flick through will always provide loads of ideas. Obviously some of the roasts and simmers (eg roast loin of pork stuffed with a caramelised onion stuffing) take a little while to make, but there are loads of "short order" recipes in here too. Considering the book is just under 200 pages long, it's quite amazing how much information is packed in here.
Here are a few examples from the salads chapter: Caesar salad; Thai beef salad; pear, rocket and blue cheese salad; niçoise salad (made with seared fresh tuna, not the tinned stuff. Wow!); Vietnamese noodle salad; and tabouleh. And many more from various cuisines. The short order section of this chapter has many ideas either for dressings or accompaniments. Additionally, there are instructions on how to make mayonnaise, and several old favourites, such as coleslaw, are given a brand new twist.
And that's only one chapter. The others are just as informative, whether you're making basil pesto or a steak pie! I'm not surprised this book has become one of my favourites so quickly. Highly recommended.
Donna Hay's Modern Classics
Book 1
Donna Hay
Paperback, 192 pages
2002, William Morrow
ISBN 0 06 009524 5
RRP: US$24.95