Wine Connection, Singapore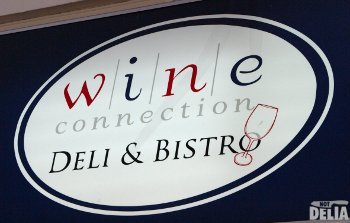 Wine Connection
11 Unity Street
Singapore 237995
This looked like a lovely place to sit down and have a leisurely glass or wine, just around the corner from the hotel we were staying in. They had a deli stocked with some wonderful produce and a menu that looked enticing. How could we resist?
So, one afternoon just after lunchtime, we wandered up and asked for a table. It took some time for a table to be cleaned for us, even though the lunchtime rush was clearly over. Nevertheless, after about five minutes we were seated comfortably and with place mats and cutlery in situ. But we'd barely had time to start looking at the menus when we were asked whether we would like to order wine. C'mon, give us a chance!
For once, we both fancied red wine. Mr ND ordered a glass of Chateau Cote du Chay Puisseguin St-Emilion, which was pleasant enough but nothing very exciting. I ordered a Pico Madama Monastrell/Petit Verdot, which was spicy, complex and enjoyable. Both came served in large glasses. I don't know whether the size of the glass simply dwarfed the size of the serving, or whether they'd used the size of glass to disguise the smallness of the amount poured, but they did seem rather stingy. And not cheap, either, at over £5 for a small glass.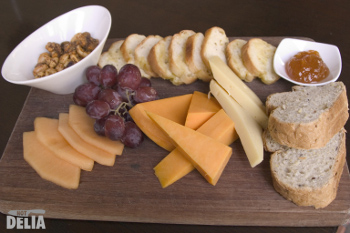 We'd seen various platters advertised on a chalk sign the previous evening and thought that sharing a cheese platter and an antipasti platter would go down rather well. But there was no sign of them on the menu, nor on the blackboards immediately outside the deli. Mr ND nipped off down the street a little to the other side of the wine shop to check that the signs we'd seen the previous evening were still there, which they were.
However, the cheese platter, which you can see in the photo above, was a huge disappointment. Perhaps we should have become suspicious when we saw the breeze block of cheddar in their deli display. When we went back inside the deli afterwards to do a bit of shopping, we found that the three cheeses they'd served us were the cheapest they had. There was nothing to be said for any of them; they were all rubbery and as bland as the cheapest mild cheddar. The accompanying slices of garlic bread were rather dry too. The melon and grapes were tasty enough, but we'd ordered a cheese platter, not a fruit salad.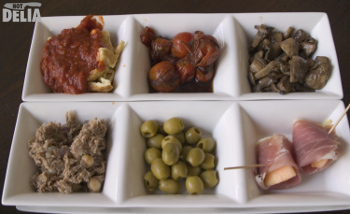 As for the antipasti platter, I'd struggle to find much to recommend that to you. The Parma ham and melon was the one bright spot. The mushrooms and the cherry tomatoes in balsamic vinegar were tasty enough, but unimaginative. Mr ND thought the tuna, onion and chickpea salad was "OK, I suppose"; I didn't fancy the look of it (and I'm sure the tuna was tinned). The olives were small, bland, squidgy and not very nice. And then there was what appeared to be a cold Spanish tortilla omelette with some kind of tomato ragú on the top.
Both these platters were a big disappointment, especially after having seen what was for sale in the deli. And at S$18++ (over ten quid) for each platter, the disappointment was bigger still. I'd rather have had a smaller cheese platter with more variety, or even paid a little extra for better quality cheese.
To cap it all, when I went to light up after the meal I was told that I couldn't smoke where I was sitting as it was in a no-smoking area – but if I stood in the service road immediately next to our table that would be OK. What nonsense! The staff did shift us to another table readily enough, although they complicated matters needlessly by trying to put our bags on a chair beyond our reach. (Fortunately one of the waiters was a bit more switched on and brought another chair over to a more convenient position.)
Overall rating: 1½ out of 5
Considering what they could have offered (some of which you can see in the photo on the right), lunch at Wine Connection was a big and rather expensive let-down. We decided not to bother eating there again.