Blackened Haddock Tacos by Gousto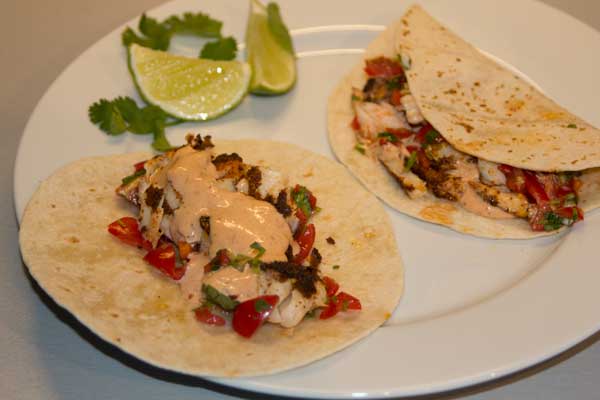 The Gousto experience
Gousto is a top UK ingredients delivery service. For more information about Gousto and how it works, please see my earlier review: The Gousto Experience
It's simple. You select the meals you fancy from their weekly menu online. They deliver all the pre-portioned ingredients to your door in their special packaging. You cook the meals according to their very easy instructions.
Today I'm reviewing Gousto's blackened haddock tacos with spicy mayo.
My first Gousto meal
Mr Not Delia and I started with the fish tacos as that meal had the shortest shelf life of the three in our Gousto box. Even so, it was 'use by' Monday from a Friday delivery, so there was plenty of time to do it.  (The other two meals were 'use by' the following Wednesday.) The portions were very generous: three tacos per person. We ended up eating two each for Sunday brunch and the third ones later in the day as a snack.
Although I've cooked plenty of Mexican-style dishes before, I'd never made fish tacos. I'm not sure why as I love fish and Mexican food, so I was keen to try something new.
Ingredients provided
The haddock taco kit consisted of:
2 haddock loins
6 tortilla wraps
10g fresh coriander
1 spring onion
1 tsp smoked paprika
1 lime
1 tbsp smoky chipotle paste
2  mayonnaise sachets (52ml)
1 tsp ground allspice
125g cherry tomatoes
Ingredients I had to provide
The ingredients which I was required to add were very basic store cupboard ingredients likely to be found in every kitchen – salt, pepper, olive oil, vegetable oil.  (Although I followed the Gousto cooking instructions to the letter, I didn't think the olive oil was really necessary as it was only used to drizzle on the spicy mayonnaise which was already tasty enough without it.)
Equipment required
All that was needed was a pan and hob to fry the fish and an oven to warm the tortillas. It occurred to me that if an oven had been unavailable, for example, if you were camping or having a picnic or BBQ it would be easy enough to dry-fry the tortillas (in the same way as cooking chapatis). Therefore, I experimented with two of the tortillas by warming them in the frying pan instead of the oven. It worked perfectly. You could easily make this meal with nothing more than a portable gas ring and a frying pan. A Gousto box could also be the perfect solution for any self-catering holiday where facilities are likely to be more limited than at home. Festivals, anyone?
Cooking the dish
This couldn't have been easier. After washing the tomatoes, spring onion, coriander and lime there were only eight very simple instructions and the process easily took less than 20 minutes from fridge to table. I've summarised the instructions below. The original instructions are very clear and each step is accompanied by a photograph of how to do it. You simply can't go wrong!
Preheat the oven and place tortillas on a baking tray
Chop the veg and herbs
Make a salsa with the chopped veg and herbs and lime juice, plus salt and pepper
Combine the mayonnaise and chipotle paste to make the spicy mayo
Combine the spices and coat the fish
Fry the fish for 3 minutes over a high heat, turning once
Put the tortillas into the oven for 2-3 minutes to warm
Assemble and serve
What I liked about the Gousto meal
This is easy, no-fuss cooking to the max.
The food was very tasty. This is ultra-important for me because I'd rather spend more time if it's necessary for creating something which tastes good. Gousto provided the means to go for quick and easy without any loss of flavour.
There was a good variety of flavours within the dish, without it being 'busy'. I enjoyed the fragrant coriander and lime aroma while prepping. Also I ate one of the tomatoes just to test the quality. I'm so fed up of tasteless, watery things from many supermarkets to the extent we buy fewer but more expensive tomatoes these days. The tomatoes supplied by Gousto were juicy little flavour bombs.
The pre-portioned ingredients meant that I didn't have to buy more of anything than what was required to make the dish. Where else would you get 10g of fresh coriander? This resulted in no waste.  I completely understand why people say that buying Gousto boxes significantly cuts their food bill and reduces their food waste.
After cooking, there was no need for storing extra ingredients and later wondering how to use them up. I like cooking but one of the chores is cleaning up afterwards, and that includes packing and storing all the bits and pieces that weren't required for that particular meal. The washing up was minimal too.
The recipe clearly stated up front what other ingredients I would need so it was a simple case of getting those few things out of the cupboard – a mise en place in seconds!
A Gousto box is a super opportunity to try new things and cook recipes you might not previously have thought to make.
I never usually think about calories but for those who do, each recipe card has nutritional information with calories, protein, fat and carbs.  By the way, each portion (per person) of the haddock tacos had only 450 calories.
There were helpful hints for the less experienced cook.
Don't be alarmed if the haddock looks like it's burning, it will become 'blackened' which gives it the smoky, charred flavour you want.
I think even the most hesitant cook would be able to easily make this meal.
Not so keen
Despite being hugely impressed by my Gousto meal, I do have one small criticism. The fish wasn't as good as we usually buy, but that's probably inevitable as it had been previously frozen and had the resultant texture.  Also one of the pieces was an odd shape. We usually buy fresh fish from the best fishmonger in the area, and tend to be very fussy about the quality of fish.  That said, it was tasty and cooked exactly as it was supposed to. I would happily eat it again.
Conclusion
For busy working people it's a no-brainer.  It's quick and easy. It's a good way to try new foods.  It reduces your food bill by eliminating waste.  There was minimal washing up to do afterwards. It could be ideal for any  camping or self-catering holiday too. It's ideal for inexperienced cooks but even experienced cooks can enjoy this – I did. It's fun! But most importantly, the food was delicious.
I'm a fan and can't wait to try the other meals from my Gousto box.
Gousto are so sure that you'll love their boxes that they'll even let you try one for half price. You can get 50% off your first box, with no long-term commitment. Why not give it a go?