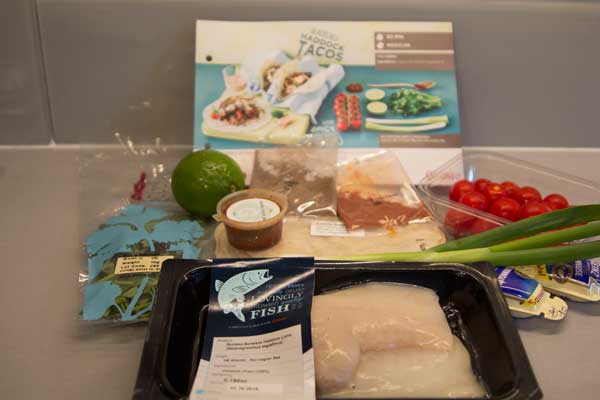 How Gousto works
Gousto lets you choose the recipes you love and get all the ingredients in perfect proportions delivered to your door. Each week, they have a new menu for you to choose from. Simply and quickly cook healthy meals with high-quality produce.
• Get started by visiting the Gousto website and choose the box size that fits your lifestyle best
• Choose recipes – every week Gousto's in-house chefs create healthy and delicious meals for you to choose from
• Receive your box of fresh ingredients delivered nationwide to your door
• All you do is cook from easy and fun instructions for all levels of experience
Meals in minutes from Gousto!
It's all very well coming up with ideas for tasty meals which only take minutes to prepare at home, and there are plenty of quick and easy recipes here on Not Delia, but even these need some forethought, shopping, and storing extra ingredients in addition to the few minutes of prep and cooking. The beauty of the Gousto system is that it eliminates those extra chores. You simply select what you fancy eating from their weekly menu online and that's pretty much it!  You choose, they deliver, you cook.  And the cooking is incredibly quick and easy as the ingredients are all ready to go in the correct quantities along with very simple step-by-step instructions. There can't possibly be a quicker or easier way to create tasty, healthy food at home.
Alternatives
Takeaway/delivery
At an average of 20-30 minutes for prep and cooking, doing things the Gousto way takes less time and effort than ordering from the local takeaway/delivery service, and the food is healthier and cheaper too. Plus Gousto has the advantage of an ever-changing menu and the fun of expanding your cooking repertoire.
Ready meals
Ready meals are OK in an emergency, but they're mass produced and usually designed to be microwaved.  Gousto wins again because of its constantly changing menu. The flavour is far superior too because you spend a few minutes cooking it from scratch yourself. And then there's the personal satisfaction. Surely no one takes any pride in feeding their family on factory-made ready meals.
The Gousto menu
The menu changes each week and offers a selection of meat, fish and vegetarian dishes. Each dish is pictured along with what you'll need to provide yourself to make it (simple everyday things such as salt, pepper, cooking oil), and an estimated cooking time.  There's also a variety of cuisines so it's an opportunity to cook and eat things which you may not have tried before. You simply have to select what you fancy from their online menu.
My first Gousto box
Gousto offers a variety of boxes according to the size of your household and how many meals you want them to supply each week. My box consisted of three meals for two people: blackened haddock tacos with spicy mayonnaise; nutty goats' cheese salad; one-pot puttanesca. (The reviews of these are coming up next.)
My box arrived as expected on the specified delivery day, a Friday. If you're not going to be at home on the delivery day, you can request to have it left at a specified place and their special 'woolcool' packaging will keep it refrigerated for up to 24 hours. I unpacked the sturdy little box as soon as I received it. All the items were neatly packaged, some on ice bags (which I've saved to reuse), and clearly labelled about what they were and how to store them.  Some items required refrigeration, the others I left in the box to keep them all together until required.
What I liked about the Gousto experience
I enjoyed the meals and am reviewing those separately later.
The pre-portioned ingredients meant that I didn't have to buy more of anything than what was required to make the dish.  This resulted in no waste.  I completely understand why people say that buying Gousto boxes significantly cuts their food bill and reduces their food waste.
After cooking, there was no need for storing extra ingredients and later wondering how to use them up. I like cooking but one of the chores is cleaning up afterwards, and that includes packing and storing all the bits and pieces that weren't required for that particular meal. The washing up was minimal too.
The recipe clearly stated up front what other ingredients I would need so it was a simple case of getting those few things out of the cupboard – a mise en place in seconds!
A Gousto box is a super opportunity to try new things and cook recipes you might not previously have thought to make.
I never usually think about calories but for those who do, each recipe card has nutritional information with calories, protein, fat and carbs.
There were helpful hints for the less experienced cook, so I think even the most hesitant cook would be able to easily make the Gousto meals.
Conclusion
I honestly didn't find anything not to like about the Gousto experience. Ordering was simple. The box arrived when it was supposed to.  It's quick and easy cooking. It's a good way to try new foods.  It reduces your food bill by eliminating waste.  There was minimal washing up to do afterwards. It's ideal for inexperienced cooks but even experienced cooks can enjoy this – I did. It's fun! For busy working people it's a no-brainer.  It could be ideal for any  camping or self-catering holiday too.  But most importantly, the food was delicious.
I'm a fan and can't wait to try more meals from Gousto.
For more details of the Gousto meals themselves, please see my reviews.
Blackened haddock tacos with spicy mayonnaise
Nutty goat's cheese salad
One-pot puttanesca
Gousto are so sure that you'll love their boxes that they'll even let you try one for half price. You can get 50% of your first box, with no long term commitment. Why not give it a go?