Venison with a red wine and blackcurrant sauce served with a potato and celeriac mash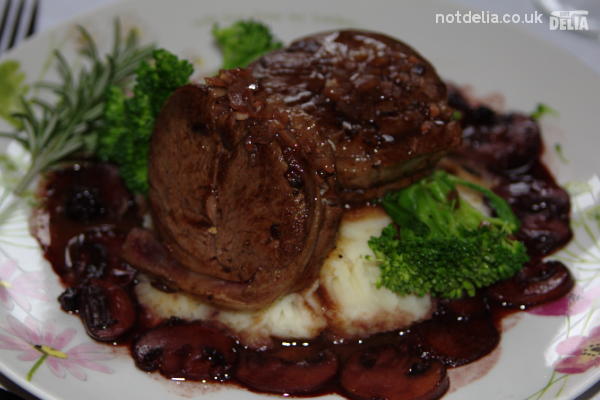 Pan-fried venison
After receiving a gift of blackcurrant jam, I thought it would go well with venison. Venison isn't something I cook very often so I was pleased to find a good recipe for it in my MasterChef everyday book. However, theirs accompanied the meat with "berry" sauce, ie one which was made with redcurrants and blackberries, but it wasn't difficult to adapt the MasterChef recipe to suit my purpose.
Sadly that book seems to be out of print now, although you can buy second-hand copies. On the other hand, you can find it free on Google Books. Here's a link to the entire MasterChef recipe for venison steaks with celeriac mash and berry sauce.
Venison steaks
Ingredients
Serves 4
2 tbsp olive oil
1 tbsp butter
4 thick venison steaks
salt and freshly ground black pepper
Method
Heat the oil and butter in a heavy frying pan then season the venison steaks.
Add the venison to the pan and cook for 3-5 minutes then flip it over and cook for a further 3-5 minutes depending on the thickness of the meat and how well done you like it. Don't overcook. Drain off excess fat.
Transfer the venison to a warmed serving dish and keep warm whilst making the mash and the sauce.
Slice the venison steaks and serve on a bed of the celeriac mash with the sauce.
My version
Serves 2
I had four generously sized venison noisettes, which I pan-fried in oil with butter. I got the pan very hot before adding the seasoned venison, then I cooked the first side until it was showing a good colour (about 3 minutes) and then flipped it till the other side was also nicely browned. We like our steak, including venison, rare so it was succulently pink on the inside. Once it was done to the desired doneness, I left the meat to rest on a heated baking tray while I finished off the accompaniments.
Serving idea
I served my pan-fried venison with a red wine and blackcurrant sauce, accompanied with potato and celeriac mash.  Additionally, just because I felt like it I also added sliced chestnut mushrooms which I sautéed in butter and added some tenderstem broccoli on the side.
It was all very tasty and I'd definitely like to have this again.
Please see my recipes for the potato and celeriac mash and the red wine and blackcurrant sauce.
Please write in if you try this or have any comments. You can use the comments form below.