One-pot puttanesca by Gousto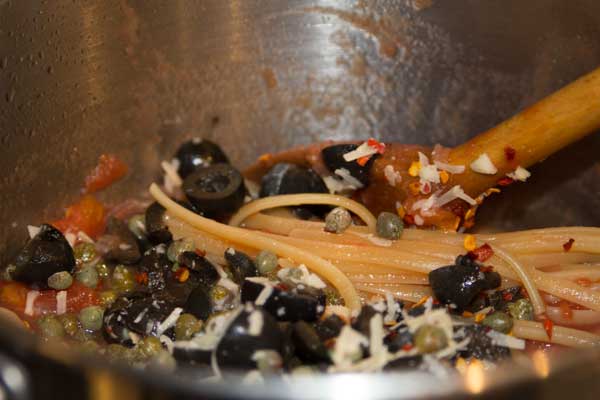 The Gousto experience
Gousto is a top UK ingredients delivery service. For more information about Gousto and how it works, please see my earlier review: The Gousto Experience
It's simple. You select the meals you fancy from their weekly menu online. They deliver all the pre-portioned ingredients to your door in their special packaging. You cook the meals according to their very easy instructions.
Today I'm reviewing Gousto's one-pot puttanesca.
A Gousto meal
Despite having made loads of pasta dishes, not least the ubiquitous and often appalling spaghetti bolognese back in my student days, I'd never actually heard of puttanesca before.  What planet have I been on? Also, I was intrigued to discover that I had to cook the pasta and the sauce together in the same pot. Surely that couldn't be right? (It is right.) It seemed that a little research was called for.
As is often the case, The Guardian's Life and Style columnist Felicity Cloake had done the research before me. Here's what she had to say on the subject.
No piece on puttanesca is complete without a knowing wink to the literal translation of the name: "tart's spaghetti", as Delia rather coyly has it, or whore's pasta, as it is more commonly known. Usually this is just an excuse for a double entendre about the dish's coarse, fiery flavours. Whatever the truth about its origins and myths, I think the most oft-quoted story, that it was a cheap dish the working girls of Naples could knock up from the cupboard between tricks, is a useful one to bear in mind.

Whenever time and raw materials are short, whether that is because you've been working late (whatever your profession), or you've just been too lazy/hungover to go the shops, pasta is usually the answer. Puttanesca is the supreme example – more satisfyingly savoury than a simple aglio e olio, but less work than a carbonara, it is a handy one to master.
Courtesy of Guardian News & Media Ltd
Ingredients provided
The Gousto puttanesca kit consisted of:
1 tin of organic chopped tomatoes
10g fresh chives
200g linguine (apparently Angela Hartnett also uses linguine in preference to spaghetti for this dish)
1 red onion
1/2 tsp fiery red chilli flakes
30g caper buds
2 garlic cloves
60g pitted black olives
40g Italian hard cheese
1 vegetable stock cube
Ingredients I had to provide
olive oil
pepper
salt
sugar
As it happened I also had all of the items provided by Gousto in my store cupboard anyway so it just goes to show how easy this dish is to make – if only you think about making it in the first place. Well done Gousto for coming up with such an easy suggestion for an impromptu meal.
Equipment required
You need a large saucepan and a hob. As with the Gousto meal I tried earlier, fish tacos, I thought how ideal a Gousto box would be for camping or any kind of self-catering holiday.
Cooking the dish
As before, cooking a Gousto meal is simplicity itself – eight simple instructions and less than 30 minutes from fridge to plate.
Peel and finely slice the red onion
Heat a large pot over a medium heat and drizzle in some olive oil
Once hot, add the red onion and 1tsp of both salt and sugar
Cook for 5 -8 min until softened but not coloured [sweat off]
Meanwhile boil a kettle
Slice the olives
Add 550ml boiled water to the softened onions and crumble in the stock cube
Bring to the boil over a high heat
Meanwhile, grate in the cheese
Peel and finely chop (or grate) the garlic
Once the stock is boiling, reduce the heat to medium and add the linguine (you can break it in half if it doesn't fit)
Add the chopped tomatoes, garlic, capers, olives and chilli flakes (go easy on the chilli if you can't handle the heat)
Tip: push the pasta into the liquid fully, so it cooks
Add 2 tbsp olive oil and a generous amount of black pepper
Cover with a lid and cook for 5-10 min until the linguine is cooked
Tip: keep checking that the linguine has not stuck to the base of the pot and stir if needed
Once the linguine is cooked, remove the lid and stir continuously for 5 min or until a sauce forms, adding more water if it looks too dry [I did need to add a big glug of extra water]
Tip: stirring the sauce releases the starch from the pasta making it naturally creamier
Meanwhile, chop the chives finely [I prefer to wash then snip chives with scissors.]
Remove the cooked pasta and sauce for the heat and stir in both half the chives and half the cheese
Serve the puttanesca linguine and garnish with the remaining chives, cheese and a good grind of black pepper
Enjoy!
What I liked about the Gousto meal
It couldn't possibly be simpler to make.
The food was very tasty. This is ultra-important for me because I'd rather spend more time if it's necessary for creating something which tastes good. Gousto provided the means to go for quick and easy without any loss of flavour.
The food was tasty and filling and the portions were very generous. One portion of the puttanesca was plenty for two lunches for me and the other portion was more than adequate for our resident gannet, aka Mr Not Delia.
The pre-portioned ingredients meant that I didn't have to buy more of anything than what was required to make the dish. This resulted in no waste. I completely understand why people say that buying Gousto boxes significantly cuts their food bill and reduces their food waste.
After cooking, there was no need for storing extra ingredients and later wondering how to use them up. I like cooking but one of the chores is cleaning up afterwards, and that includes packing and storing all the bits and pieces that weren't required for that particular meal. The washing up was minimal too – only one pot!
The recipe clearly stated up front what other ingredients I would need so it was a simple case of getting those few things out of the cupboard – a mise en place in seconds!
A Gousto box is a super opportunity to try new things and cook recipes you might not previously have thought to make.
I never usually think about calories but for those who do, each recipe card has nutritional information with calories, protein, fat and carbs. By the way, each portion (per person) of the puttanesca had only 559 calories.
I think even the most hesitant cook would be able to easily make this meal.
Not so keen
Unusually for me, I liked everything about it and couldn't find a single thing to criticise.
Conclusion
For busy working people it's a no-brainer.  It's quick and easy. It's a good way to try new foods. It reduces your food bill by eliminating waste. There was minimal washing up to do afterwards. It could be ideal for any  camping or self-catering holiday too. It's ideal for inexperienced cooks but even experienced cooks can enjoy this – I did. It's fun! But most importantly, the food was delicious. Oops, I almost forgot to say the Gousto puttanesca is vegetarian.
I'm a fan!
Gousto are so sure that you'll love their boxes that they'll even let you try one for half price. You can get 50% off your first box, with no long-term commitment. Why not give it a go?