Matt from the What I Ate Today blog commented on my earlier British Indian restaurant curries to say that he was disappointed because I'd not included his personal favourite – pathia.
So I found a recipe in Camellia Panjabi's book for prawn patia. First, though, I had to get some tamarind, which wasn't as straightforward as one might hope.
Here is Camellia Panjabi's recipe which, for a change, I actually followed and (more or less) did as I was told. I fall into the "look at the picture, glance at the ingredients" category. Have you done my poll yet?
Camellia Panjabi's Prawns in Sweet and Hot Curry (Prawn Patia)
Serves 2
Ingredients
8 oz (225g) shelled, uncooked prawns
1½ teaspoons tamarind pulp
5 green chillies, chopped
3 plump garlic cloves
1 teaspoon cumin seeds
¼ cup oil (I used ghee instead)
2 large onions, finely chopped
½ teaspoon cumin powder
¾ teaspoon coriander powder
¾ teaspoon red chilli powder
1 teaspoon garam masala powder
½ teaspoon turmeric powder
2 medium tomatoes, finely chopped
1 teaspoon jaggery (I didn't have any and used palm sugar instead)
10 curry leaves (Urgh! I've run out and couldn't source any new ones)
¼ cup coriander leaves
salt
Method
1. If using fresh prawns, wash and remove the veins. (¿Qué? It's not a vein, it's the intestinal tract.)
2. Soak the tamarind in ½ cup of water for about 30 minutes.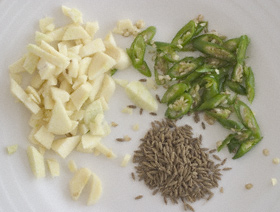 (Now this recipe gets very confusing because it doesn't use some ingredients on the list and also repeats itself at times. Here's my interpretation of it.)
3. Grind the green chillies, garlic, and cumin to a paste.
4. Heat the oil in a suitable pan (I used a wok) and sweat off the onions. Add the paste you made in step 3 and fry for another couple of minutes.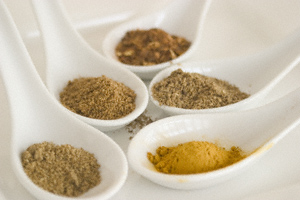 5. Add the cumin, coriander, red chilli, garam masala and turmeric powders. And stir for another minute or so.
6. Add the chopped tomatoes and fry for 4 or 5 minutes, stirring from time to time.
7. Add half the tamarind water (I still haven't figured out what you're supposed to do with the other half), the jaggery, curry and coriander leaves and about 1½ teaspoons of salt.
8. Taste and adjust the sour, sweet and salt flavours to your taste.
9. Add ¾ cup of water. Bring to the boil and simmer for 5 minutes.
10. Add the prawns and cook till ready, ie when they turn pink and opaque.
50 Great Curries of India (2004 edition)
Camellia Panjabi
Paperback, 224 pages
2004, Kyle Cathie Limited
ISBN 1856265463
RRP: £10.99
Read my review of 50 Great Curries of India