50 Great Curries of India
50 Great Curries of India by Camellia Panjabi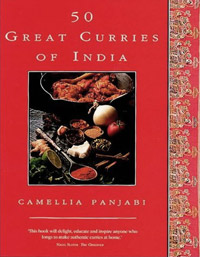 The British restaurant style of curry is quite different to the "real" Indian food you'll find in India. Having lived in India for several years, I can personally vouch for that! You can read more about that side of things, and the history of the British curry, in this interesting cookbook.
The author, Camellia Panjabi, was born in Bombay (now Mumbai), educated at Cambridge, and subsequently became an internationally successful restaurateur bringing the delights of regional Indian cuisine to both Asian and Western restaurants. The book is not simply a catalogue of recipes. It covers the philosophy of Indian cuisine, and the history of "curry" as we Brits know it. "Curry" simply means a dish to be eaten with rice and the word may even have been a British invention.
The book takes us through the introduction to the cuisine, the philosophy of Indian cooking, and a discussion about the origin of "curry" itself. Next it talks us through the use of spices and various techniques, such as thickening agents and the correct use of chillies – the latter being "vital" if you want to make a gourmet curry, apparently. It gives hints and shortcuts and describes which ingredients are used mainly for taste or for aroma. This fascinating background information takes up about a quarter of the book before you even get to any recipes.
The recipes themselves are excellent, each one illustrated with a beautiful photo. I just love cookbooks like this! And each is accompanied by a few paragraphs about where the dish originated and its history. Murgh makhani (butter chicken), for example, originated in the Moti Mahal restaurant in Delhi in the 1950s, where they made the sauce by adding butter and tomato to the leftover chicken juices in the marinade trays from which they used to sell hundreds of portions of tandoori chicken every day. Each recipe has its own fascinating facts and a wonderful photo. This could be a great coffee table book, even if you never have any intention of making a curry.
(If you'd like to find out how to cook butter chicken, please see my review of Camellia Panjabi's recipe.)
As well as all the curries you'd expect – korma, rogan josh, and all the rest – there are more unusual ones, such as pork vindaloo, a Goan dish from an area which was historically dominated by the Portuguese. But no one just eats a curry on its own so the book doesn't let you down there either. There are numerous recipes for accompanying dishes: rice, breads, chutneys, dal, raitas (yogurt), kachumbers (relishes) and more. There's also a very small section on desserts, but who cares? Do any Brits ever eat Indian desserts?
Finally the book goes on to discuss planning a meal with menu suggestions and even a brief account of what to drink with an Indian meal. Interestingly, according to the book the British drink beer and the French drink wine with their Indian food. No great surprise there, then.
I've made some of the recipes in this book but can't vouch personally whether they work or not as I tend to look at the picture, then look at the ingredients and get a general idea of what's supposed to happen, and then just do it. That said, it's a good book to have and I'm glad it's in my collection. If you're a fan of Indian food or have any interest in the cuisine itself, then I highly recommend it to you.
Namaste!
50 Great Curries of India
Camellia Panjabi
Paperback, 192 pages
1995, Kyle Cathie Limited
ISBN 1 85626 186 7
RRP: £9.99
You can also see some photos of my attempt at butter chicken from this cookbook.