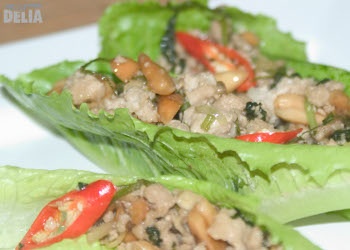 There's no hard and fast rules for this one. The idea is to get some leaves and put some filling into them. I used small Cos leaves for mine but there are all kinds of other leaves you could use too, such as iceberg lettuce or some special kind of Thai leaves (perhaps more about that later). It's similar with the filling, I used minced pork but you can just as easily use minced chicken or some other meat.
To make the filling, I bunged some oil into the wok and, when the oil was hot, I chucked in the pork mince to brown it. I also added some finely chopped garlic and shallots. Once those had cooked off nicely I then added a little bit of coconut milk, and Thai flavourings such as finely shredded lime leaves, chopped lemongrass, and dried shrimps. I also added some chopped roasted peanuts. Next I tasted the filling before adding nam pla (Thai fish sauce) for saltiness. Once happy with it, I sprinkled some chopped coriander and sliced red chillies into the wok, and served the filling inside the little lettuce leaves. OK, so it's not a proper recipe but you get the idea and the only thing that can hold you back is your own imagination. Have fun!
PS: If you really, really feel the need for a recipe, Delia Smith has a rather bizarre one on her site. Good luck! LOL!