Not Delia's Christmas menu ideas: Starters
I know that a lot of you will be having Christmas parties and some of you may even be facing the daunting task of cooking for a small crowd of friends or family. Don't panic. Try to do some of the things ahead so you don't have to do absolutely everything on the day. Many people think that the traditional Christmas lunch on its own is sufficient and you don't need a starter. Others like to do a full three-courser. Both ways are fine but if you are having a starter, then try not to to make something that will fill up your guests before the main event.
Some suggestions for starters
Well, you could have soup, but I tend to think of soup as often being a meal on its own. There are some soups which are tasty but still quite light and don't fill people up, such as my carrot and orange soup. It's very easy to make and you don't even need oranges to do it – just use orange juice from a bottle or carton. You could easily make this a couple of days ahead.
Patés are also a popular starter. The easiest paté recipe I've ever found is for smoked salmon paté. Again, you can make this a couple of days ahead, but don't freeze it. Serve with oatcakes or melba toast.
If you're looking for a vegetarian starter then you could try my easy mushroom paté or mushroom and hazelnut pate. Both are delicious and are enjoyed by everyone whether or not they eat meat. If you have veggies coming for Christmas you could serve a mushroom paté as a starter and not need to make two different starters to cater for everyone.
If you don't need to provide vegetarian options, then you might like to make chicken or pork liver paté. People love that one, and I've been told that it freezes well so there's another thing you can do ahead of the day.
If you really want to push the boat out, you could try making paté de foie gras (a yukky job). Of course, you could buy it too – that's more expensive but it would be fine if you want to cheat. Whatever, it's something else that you can do before the big day.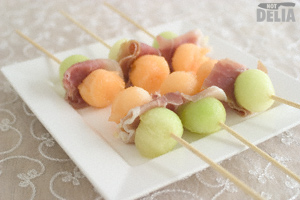 Perhaps you'd like something a bit different from the more traditional soup or paté? Then you'll be hard pushed to find something quicker and easier than Parma ham with melon balls. You would, of course, have to make and assemble that on the day but it's very quick and easy and there isn't even any cooking involved. Even a man could do it. (Only kidding!)
And for the main course?  Well, you could have turkey with all the trimmings. Here's my page about roasted turkey crown with most of the trimmings.
I'll also do a page with some suggestions about Christmas party foods soon.
Please write in (use the comment form) if you have anything you want to say or if there's anything you want to ask about.