How to cook a turkey breast crown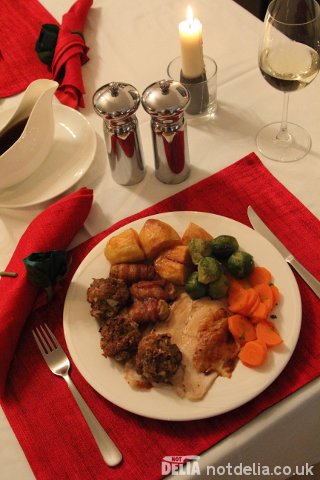 This was a new thing for me as I'd never cooked a turkey crown before. We don't normally have turkey for Christmas anyway, but we decided to get one for a change as both of us like turkey sandwiches. There's only the two of us, so getting a whole bird seemed a bit excessive and we opted for a turkey crown. This is a turkey minus the legs and various other bits, and is a bit more manageable for only two people.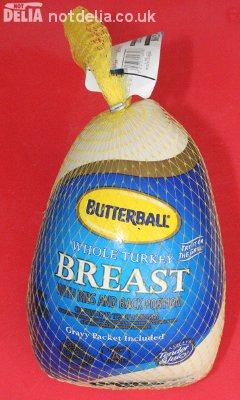 It was a Butterball and it came with cooking instructions. After wrestling for ages to get the instructions out of the packaging, I was less than impressed by what they contained. The temperatures were all in Fahrenheit (and when converted they seemed far too low to be believable anyway) and they gave various options for how to cook it – roast, microwave, grill, etc.
(click for bigger)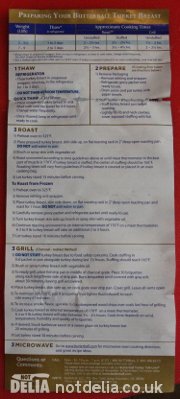 I really didn't like the look of this so I decided to look elsewhere for advice about how to cook this thing.
I found an excellent recipe on BritishTurkey.co.uk and followed their general method minus all the whole garlic bulbs.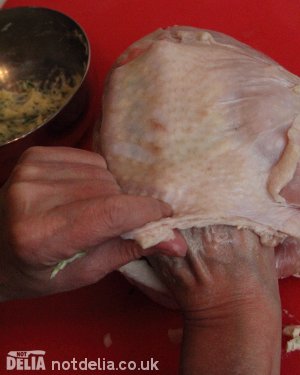 Having already defrosted the turkey in the fridge, washed it, and patted it dry, I then mixed up some butter with freshly chopped parsley and a couple of cloves of garlic, which I inserted between the skin and flesh of the bird. It's a yukky job but this bastes the joint for you and keeps the turkey meat moist and succulent.
I put it upsides down on top of a roughly chopped onion in a roasting tin and covered it in foil. That went into the oven at 190°C (375°F, Gas Mark 5) for a couple of hours. Then I took it out, removed the foil, put it the right way up and added a few strips of streaky bacon on top, and put it back in the oven for another 30 minutes. The bacon was supposed to protect the breast from burning in the hot oven and to add more flavour to the meat. This tactic wasn't a huge success as it mostly just prevented the breast from going that nice golden, delicious-looking colour. It looked a bit peely-wally so I took the bacon off and tried to get some colour onto the breast.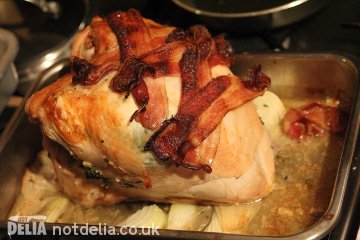 Anyway, the finished result was pretty good. The meat was moist and it was nice to have turkey for a change. Meanwhile I had made roast potatoes and, as is traditional in Britain, had put the sprouts on to boil three days earlier. I couldn't be bothered faffing about with julienned carrots – but here's how to do that from my posting a couple of years ago – so I just sliced the carrots, boiled them, and topped them with a bit of freshly chopped parsley. We also had sage and onion stuffing balls and pigs in blankets.
We did consider having bread sauce, cranberry sauce and various other bits and bobs but it all seemed to be more bother than it was worth. I did, of course, make gravy. The product itself came with some (liquid) gravy in a packet but we didn't like the look of it very much (and have still to get around to trying it), so I made my own.