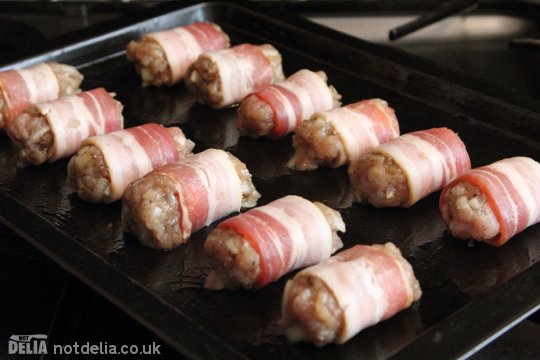 It's a funny name for what is essentially just a cocktail or chipolata sausage wrapped up in a piece of streaky bacon. It's really easy to do, but it's traditional to have these with turkey and all the trimmings and is yet another thing to do for the "traditional Christmas dinner".
I've cheated and made them ahead of time. They can be frozen, defrosted, and heated up again in the oven (or microwave, I suppose, if you're that way inclined). You can see from my photo that, although these are cooked, they're not over-cooked so they'll quite easily survive another stint in the oven to give them a bit more colour and be served hot along with the rest of the meal.
You can just take a chipolata sausage, or cut a piece of a normal sausage, and roll it in a bit of streaky bacon. Place them on a baking tray and bung them in a fairly hot oven (190°C/375°F/Gas Mark 5) for about 20-30 minutes.
But if you're the type who likes to faff about and do things in the proper cheffy way, then take each rasher of the bacon and flatten and stretch it using the back of a chef's knife – a Western style of knife is probably better than a santoku. Cut the rasher in half – no, not lengthways, you're not going to be knitting it around the sausage. Then you roll the sausage in the bacon. Some people secure their pigs in blankets with cocktail sticks. Yawn. If you make 'em properly there's no need.
And some people go to the faff of making their own sausage mixture instead of buying sausages, but that's a story for another day. Yeah, OK, I confess. I didn't buy sausages.
Are you looking for some easy party foods or starters? Then please have a look through my recipes section – you should be able to find something suitable in there.