These tarts aren't sexy enough
I received my Australian Gourmet Traveller magazine recently – the February edition. Whilst I usually really enjoy this magazine (it's the only one I currently subscribe to), initially I was rather disappointed with this one.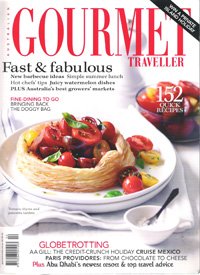 The cover picture shows what looks like dodgy burnt tomatoes inside a pastry case. This offering is described as "tomato, thyme and pancetta tartlets". Well, it sounds posh enough for a cover page, but it's just NOT INSPIRING. And I want to be inspired.
After the usual pages of glossy ads, there's a lot more uninspiring photos. There's probably a lot of good info in there too, but I like to look at the pretty pictures so I was feeling a bit let down.
The magazine did redeem itself about half way through with a "Chefs at Home" feature. This was really a superb idea and very nicely done.
"What does Australia's finest cooking talent whip up come time to clock off? Here are 72 great quick dishes – and not a soufflé or tian in sight."
Wow! The magazine would almost have been worth buying for this feature alone. I'm going to make loads of these things!
From then on normal service was resumed – lots of good things, great photos, AA Gill's column, and all the usual regulars. I do feel I got my money's worth. But I can't for the life of me understand why they'd put that blackened-tomatoes-in-pastry picture on the front cover and get the magazine off to a feeble start.
As a Brit, it might seem strange for me to subscribe to an Australian mag in preference to all the British offerings. That's a story for another day… (soon)