How to make perfect steamed rice

At last I got around to doing this because someone asked me yet again about it. So, having had another kick up the bum about it – here's your answer.
Ken Hom is the man you want here and his Foolproof Chinese Cookery book.
Unlike the plump short-grained rice which is used for risotto and sushi, this dish calls for long-grain white rice. Ken Hom also says, "Don't use pre-cooked or 'easy to cook' rice as it lacks the texture and starchy taste fundamental to Chinese rice." Ken Hom's recipe is on page 110 of his book; here's my take on it.
Ingredients
400 g long-grained white rice (for some reason Ken Hom measures his in ml)
600 ml water
Method
1. Wash the rice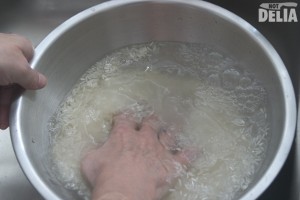 Put it in a bowl, run the tap over it, agitate it a little with your hand. Rinse and repeat until the water runs clear.
2. Boil the rice
Put the rice in a pan with the 600 ml of water and bring to the boil. Boil until the surface water has reduced, leaving the rice with a sort of crater-like appearance. (Ken Hom says about five minutes, mine took nearer to ten.)
3. Steam the rice
Once you've got it to the crater stage, stick a lid on the pan and continue to cook on a very low heat for about 15 minutes. Turn the heat off and let it rest for another five minutes.
Voilà! Perfect steamed rice. Every grain all fluffy and separate. It's easy, isn't it? Maybe we should do a fried rice recipe next…