Prawn Cocktail – Photo Essay
Here's a little photo-essay of me making Hopkinson and Bareham's prawn cocktail recipe!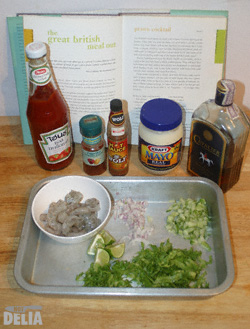 I had some prawns left over from making Ainsley's prawn and chilli ginger cakes. The first step is to get all the ingredients together.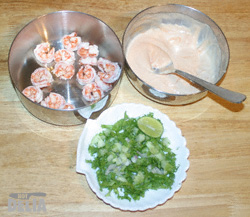 All cooked, chopped and ready. We're at the assembly stage now.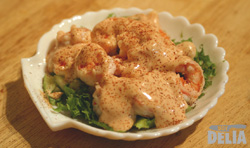 Finished dish.
Not bad, eh? This is a pretty good book and I make loads of things from it. Mostly things with chips. Steak and chips or scampi and chips, anyone? Gotta go now, my presence is required in the kitchen…
The Prawn Cocktail Years
Simon Hopkinson & Lindsey Bareham
Hardback, 256 pages
1997, Macmillan
ISBN 0 333 68460 5
RRP: £20.00
You can read my review of The Prawn Cocktail Years here.