Seven Seas Seafood Restaurant, Bangkok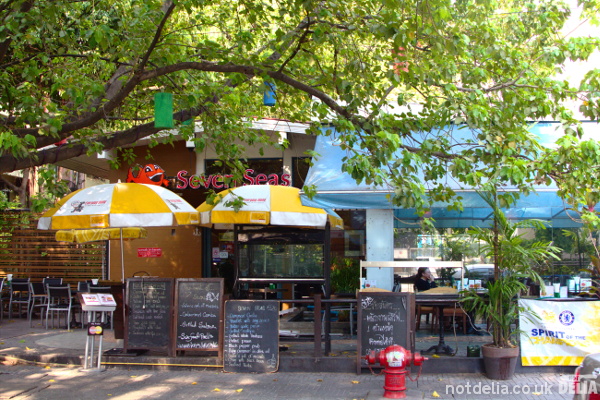 27 Sukhumvit Road, Soi 4
Klongtoey
Bangkok 10110
Open daily, 1230-late
Ever get the feeling that you're sick of doing the rounds of all the same places over and over again and fancy a change of scenery? We certainly do.
That's why, one mid-afternoon on our most recent trip to Bangkok, we found ourselves in Sukhumvit Soi 4, otherwise known as Soi Nana – home of the Nana Hotel, and the notorious Nana Plaza opposite, home to several girlie bars on the ground floor. There are plenty of garishly lit establishments on the higher floors, too, but we've never ventured up that high.
Anyway, I digress. The reason we were in Soi 4 was to eat, at the Seven Seas seafood restaurant, considerably further down the soi. A favourable review on TripAdvisor had said it was 200 yards into the soi. I'd estimate it was about twice that.
We arrived there at about twenty to four. Unsurprisingly, it appeared deserted on the outside, but peering through the fairly heavily tinted windows we could see that there were at least a couple of people sitting inside, although whether they were customers or staff was another matter.
We found an outside table in the shade (easy enough, although the sun was beating down) and sat down to wait. Within a moment or two a waiter appeared with menus. So they were on their toes, which we thought was a promising sign.
There was a reasonably extensive and not too pricey wine list. Nevertheless, we stuck to Heineken because of the heat. It was cold when it arrived – good. Happy hour is between four and seven o'clock, but be aware that it's two for the price of one, not half-price. So out of five bottles of Heineken ordered, we were billed for four: our first two drinks arrived before happy hour began, and we ordered three after that (two together, then one last one to share – if we'd remembered it was two-for-one, we might have ordered the other bottle).
Perusing the menu, we were rather surprised to find that Thai food didn't really figure terribly strongly – it appeared to be much more eclectic, with seafood dishes from a variety of cuisines. There was also a substantial proportion of non-seafood dishes, but we weren't so surprised by that because their website had made quite a point of saying that they'd expanded their non-seafood offerings to meet customer demand.
There were plenty of tasty-sounding (and looking) dishes to whet our appetites, anyway. Both of us were particularly taken by the prawn and artichoke salad, which looked delicious. The grilled scallops with spiced coconut cream looked and sounded interesting too. And we also decided to try the Chesapeake Bay crab cakes, at least partly because GFR always orders crab cakes on the US version of Kitchen Nightmares.
The food started appearing after 25 minutes or so, just as we were starting to get a little twitchy. First to arrive was the prawn and artichoke salad. The photograph in the menu had looked great, but there was a disclaimer on the back pages saying that photos were for illustrative purposes only. In fact, their photo didn't do it justice – it looked even better in real life.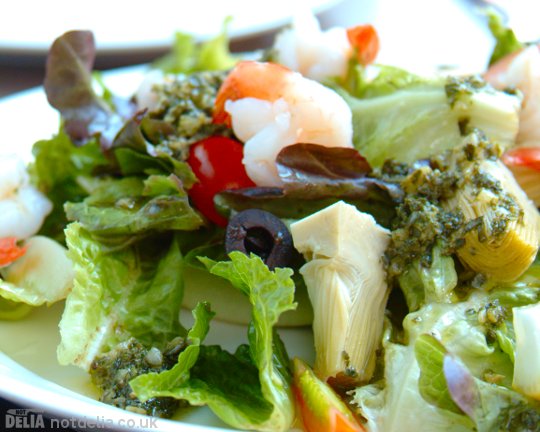 The prawns were cooked to perfection, and beautifully clean. OK, so the artichokes may have been out of a jar, but they were still tasty. And the rest of the salad was beautifully presented, with a subtle but light gremolata dressing – garlic, parsley and lemon juice.
The Chesapeake Bay crab cakes were something of a surprise. Despite the name, we'd expected something more akin to Thai fish cakes, but these were large and thick. In fact, we wondered at first if they were going to be like British chip shop fish cakes, with potato. Not a bit of it – they were packed with crab meat and very tasty. They were accompanied with a few shoestring fries – nothing particularly special, but OK.
They also brought out a squeezy container of tomato ketchup. I asked if they had any tartar sauce, and – after a couple of attempts to explain – the waiter assured me he would bring some. After ten minutes, it still hadn't arrived, so I asked again. "Yes, it's coming," a different waiter told me, "the chef's just making it." Wow, I thought. Another five minutes, and the head waiter arrived with, not tartar sauce, but a tomato salsa, which he explained was the usual accompaniment for their crab cakes – it just hadn't been prepped by the time we arrived, so the chef had had to juggle his routine a bit to accommodate us. Anyway, it was delicious and complemented the crab cakes perfectly.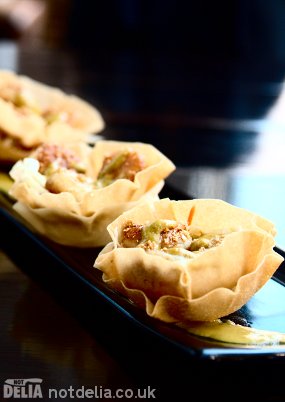 The scallops were slightly disappointing. The presentation was very attractive, although we suspect the crispy wrappers were spring roll pastry (locally produced, and therefore cheap) and not filo pastry (imported, and therefore expensive). And the spiced coconut cream was pretty good, too, if a little weird. But the scallops themselves were overdone and thus rather on the rubbery side. Not the worst we've ever had, mind – that dubious accolade belongs to the little hard bullets we were presented with in 2003 at the West View restaurant at the New Delhi Maurya Sheraton. (Of course, after nine years there's probably been quite a bit of staff turnover, though the head chef is apparently still the same and the concept appears not to have changed.)
The only other disappointment was that at five o'clock someone turned on the music – nothing too outlandish, but rather loud if you're sitting just below the speakers, as we were.
Overall rating: 3½ out of 5
It was nice to have a change of scenery and the food was pretty good for the most part, in spite of it being a quiet time for the restaurant. We wouldn't necessarily race back, but it's one more option to consider the next time we're getting bored with our favourite haunts.