Raffles Courtyard, Singapore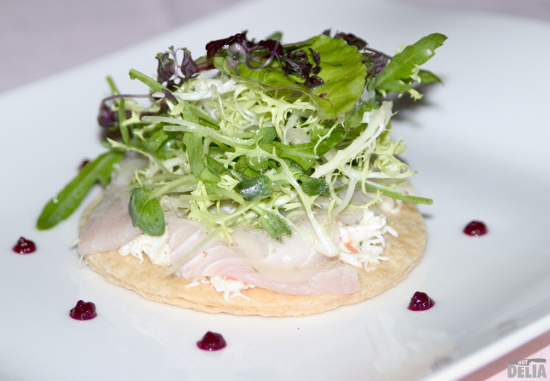 Raffles Hotel Singapore
1 Beach Road
Singapore 189673
Tel: 6412 1816
Open daily: 1830-2200
Gazebo Bar: 1130-2230
We had been to the Raffles Courtyard before but that was 15 years ago! All we remembered about it was that the food had been terrific and the Courtyard gives you the ambience and fine food of Raffles, without the hefty price tag of the Raffles Grill. (Maybe we can try the Raffles Grill some day if we strike it rich.)
We arrived at 1730 and asked, "Can we book a table for two this evening please?"
"Sure, when would you like it?" Thomas replied.
"Would half-past seven be OK?"
"Perfect."
As it happened, we finished our shopping early and returned to the Courtyard at 1830. So we stopped by the Gazebo bar, which is also in the courtyard, for a sundowner (Mr ND had a 500ml bottle of Erdinger wheat beer, I had a Tiger) while we waited for 1930 to roll round. We were greeted again by Thomas (who seemed to be quietly bustling about overseeing everything in both the Gazebo and the Courtyard).
At the appointed time, we moved over to the Courtyard restaurant, and were seated by Thomas again, and told that Simon would be taking care of us for the evening. Simon told us he would be back to serve us very shortly. The restaurant was very busy by this time. Even so, we were given our menus promptly enough… by John. The staff were all very polite and efficient, yet they managed to be very friendly too. The manner of the staff really added to our enjoyment of the occasion.
Having received the menu quickly, unfortunately we then took the best part of half an hour (until eight o'clock) to decide what we wanted. Not that it appeared to faze the staff, who were happy enough to be put off several times while we "suffered" the "agony" of choice. In the meantime, they were happy to bring my camera a chair too.
I chose the yellowtail kingfish carpaccio with lump crab on a crispy tart with rocket leaves and beet caramel. It was truly superb – every bit as good as the photo above suggests.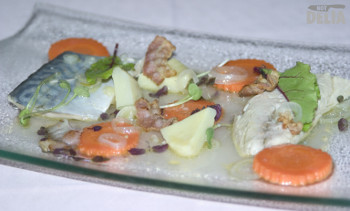 Mr ND had the marinated mackerel "Nage style" with artichoke, carrot, pearl onions and fried pancetta. The mackerel was beautifully moist. Quite often he removes the skin because he doesn't like the blubbery texture of it; on this occasion there was absolutely no need to. And the pancetta (high-class streaky bacon) gave it a lovely extra flavour dimension plus a superb crunchy texture. The only minor problem was the presentation; the carrots looked a bit clumsy. But all round it was an excellent starter.
My "main course" was another appetiser, the smoked marlin with palm heart salad and lemon oil dressing. We wondered whether marlin was related to tuna (it turns out it is, and to swordfish too). Palm salad has a very mild flavour, but it was a subtle taste presence in the dish rather than a complete void of flavour. It was nice, although perhaps it didn't have as much wow factor as the other two appetisers we'd already tried.
Mr ND had the wok-fried jumbo tiger prawns with sweet chilli sauce, green mango and seafood fried rice. (And two Chinese buns that hadn't been mentioned on the menu.) When they said jumbo, they weren't messing – we've never seen tiger prawns as big and fat as these ones were. But there was no question of size being a substitute for quality. They were absolutely delicious!
Overall rating: 4½ out of 5. (No one has ever got a 5 yet.)
All in all, we had a wonderful evening with marvellous food, in a comfortable, relaxing atmosphere and served by terrific staff. We would go back in a shot!