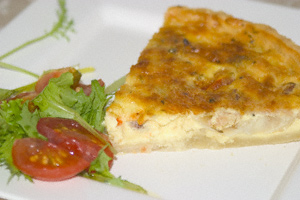 Quiche is always a popular dish and goes down well in a buffet or party. It's good when you're cooking for crowds. You can always freeze it too so you have a ready meal available for whenever you want it. Just bung a little bit of salad on the side and there's a quick and easy meal in minutes.
It's best to cook the pastry a little bit first, using the baking blind technique. Then let the pastry cool off before adding the filling.
You can use rice or dried beans for baking blind. Ceramic beans like the ones in the picture are nice but not essential. It's best to put a layer of waxed paper, or similar, over the pastry before adding the baking beans.
Ingredients
Pastry
Short crust pastry
(I used about half the quantity of my shortcrust pastry recipe to make a quiche of 8 inches (20cm) diameter. Either halve the shortcrust pastry recipe, or use the other half for something else – or make a bigger quiche!)
Filling
1 onion, finely chopped
3 streaky bacon rashers, snipped into strips
3 eggs
100ml/3½ fl oz cream
100ml/3½ fl oz milk
grated cheese to sprinkle on top
tomatoes
seasoning: salt, pepper, perhaps a little sprinkling of dried thyme
Several of the above are optional. You could omit the bacon, cheese, tomatoes or dried herbs if you choose.
Method
First make the pastry and leave to chill while preparing the filling.
Chop the onion and snip the bacon and cook gently for a few minutes. Remove from the heat.
Once the pastry is chilled, roll it out and line the quiche dish (or other oven proof dish). Bake blind for about 10 minutes at 190°C/375°F/Gas Mark 5.
After the pastry has been part-baked, remove the baking beans and let the pastry cool before adding the filling.
Meanwhile whisk the eggs, cream and milk together.
Take the cooled pastry case and add the cooled onion and bacon. Pour the egg, cream and milk mixture on top. Pop the slices of tomatoes or quartered cherry tomatoes on top, if wanted.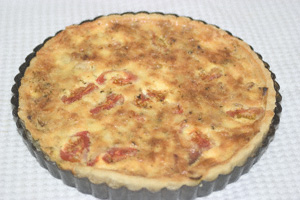 Bake in the oven until the egg mixture has set (about 40 minutes). Check it's cooked by inserting a skewer or knife to see how the land lies.
Quiche can be served hot or cold. But, as with pastry generally, it's unsuitable for heating up in the microwave.