Ostrich (or beef) with black pepper sauce
Serves 2 (smallish portions)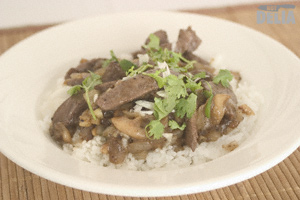 Having sampled a delicious ostrich with black pepper sauce at the dinner buffet at the E & O Hotel in Penang, I decided that I would have a go at recreating this at home. As it happened, I had a bottle of Blue Elephant black pepper sauce which I'd bought on impulse. I usually make everything from scratch but occasionally I like to try the more 'convenient' versions of things. I'm not very keen on ready-made sauces but you can find the occasional gem, such as Brahim's rendang sauce, so I'm game to try something new.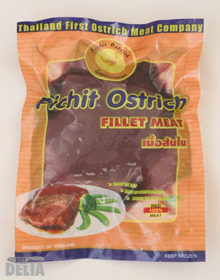 I also had some ostrich steak handy in the freezer. You can cook ostrich in exactly the same way as you would cook beef. Just treat it in the same way as you would fillet steak. Apparently it's not so easy to get ostrich meat in the UK these days, not so much because people don't want to eat it but more because of its lack of availability due to the big ostrich farming scams of the 1990s. Anyway, if you've not tried it I would thoroughly recommend it to you as being tasty and tender. It's also very easy to cook. Here's what I did for this meal in minutes.


Ingredients
250g ostrich (or beef) fillet steak
1 large onion, chopped
2 cloves garlic, chopped
A handful of oyster mushrooms, chopped
½ bottle of Blue Elephant black pepper sauce
Method
First cut the meat into thin strips and stir fry with the garlic – use a wok if you have one. Remove from the wok or pan and set aside. Next sweat off the onion and mushrooms in the wok and add about half a bottle of the sauce. Finally add the meat back and make sure it is thoroughly hot before serving.
Serve with steamed rice (Ken Hom gives a great method in his book Foolproof Chinese Cookery) and a garnish of chopped fresh coriander.
The verdict
It was OK. It only took about 10 minutes to make, so for fast food it was acceptable. The sauce tasted overwhelmingly of pepper – yes, I know it was black pepper sauce, but there was just no complexity of flavour. It was also a bit too salty for our taste. If I get desperate to put a meal on the table in 10 minutes again, then I'd probably use the other half of the bottle of sauce. But I most certainly wouldn't buy it again. The sauce gets a 'thumbs down' from me.