Truffle Festival 20-21 June (Canberra)
A Taste of Midwinter Magic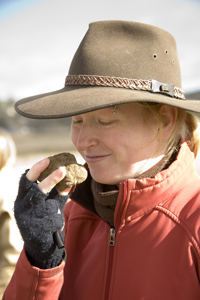 Photo courtesy of:
regionalfood.com.au
The first annual 'Capital Country Truffle Festival' will be launched on the winter solstice (Saturday 20 June and Sunday 21 June 2009) and continue for the 2009 truffle season. The truffle season is usually late May to early August and this event will create public awareness of the truffle's availability and provide opportunities for suppliers and the food service industry to be creative in offering their services and products to the public.
The organisers of the event, Fred Harden and Wayne Haslam, have got lots planned for the event. They are also offering a truffle user's guide (free PDF download: 74KB) which contains information about buying, storing and serving them.
Did you know that Australia is a world leader when it comes to cultivating truffles? Regional Food Australia have an excellent video which features Wayne.
For more information about the Truffle Festival, see the Capital Country Truffle Festival website.