Not Just Leek and Potato Soup
Here's a basic leek and potato soup recipe and some ideas for variations on the theme.
Basic Quick and Easy Leek and Potato Soup (Vegetarian)
This would serve six to eight as a starter or four very hungry people as a meal.
Ingredients
4 large potatoes (peeled and diced)
2 large leeks (washed and sliced)
1 large onion (chopped)
2 cloves garlic (chopped) (The garlic is optional but I like it!)
1oz/30g butter
1 veggie stock cube
1½ pt/850ml boiling water
Parsley or chives for garnish, if wanted
Method
Melt the butter in a suitable pan. (I like using my 22cm Le Creuset cast iron pot for making soup.)
Chop the onion and start sweating it off on a low temperature.
Meanwhile, thoroughly wash and slice the leeks and sweat off along with the onion. Keep back a small handful of slices from the green part of the leeks for adding later.
Peel and dice the potatoes. Add them to the pan and give them a good stir round so they are also coated in butter.
Bung in the stock cube and water. Bring to a simmer and put the pan lid on, if you have one, and leave simmering until the potatoes are soft.
That's the basic recipe. Now for the variations.
Here are the versions for those with special dietary requirements and those who are counting the calories.
Rustic Leek and Potato Soup
You can serve the soup just as it is; just add the leeks you set aside earlier and simmer for a few minutes to add a nice fresh taste. Garnish with chopped herbs.
If it's a little bit too chunky for your taste you can mash down some of the potatoes with a potato masher or give it a quick whizz with a hand-held blender.
Vegan and Low Fat Leek and Potato Soup
Substitute a little vegetable oil or low fat vegetable margarine for the butter.
Non-vegetarian Leek and Potato Soup
Substitute a chicken stock cube for the veggie stock cube.
And now we have the versions for those who aren't cutting down on calories.
Hungry Yachtsman Leek and Potato Soup
My friend Mike K-H of New Freebooters tells me that yachtsmen on strenuous races need plenty of high calorie food to keep them going, so I made this version for him (not that he ever got to eat any of it! But he can enjoy the photo). This version would also be good to put in a vacuum flask for any outdoor activity, hill walking, fishing, sailing, etc.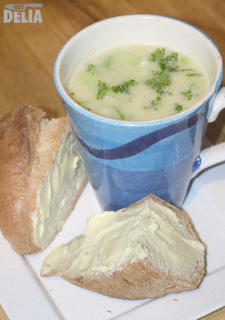 First make the basic soup as described above. Now mash or whizz until it's thick but still has a few bite-sized chunks in it. This soup is intended to be drunk from a mug or cup, so we don't want any over-large chunks in it. Neither do we want it puréed to the consistency of baby food.
Next add the spare handful of leeks and simmer for a couple of minutes. Then add about 100 ml of cream (I used 35% cream because that's the easiest to get where I live) and reheat.
Garnish with parsley, if wanted, and serve in a mug accompanied by chunky, crusty bread spread with lashings of butter.
Optional extra:
For an even tastier and higher calorie soup, crumble some Stilton (or similar) cheese into the soup. This is truly delicious!
Hearty Cream of Leek and Potato Soup
First make the basic soup as described above. Now mash or whizz until it has the consistency you want. If you find you'd rather have it thinner, then add more water, taste, and add half a stock cube (or more) if required.
Next add the spare handful of leeks and simmer for a couple of minutes. Then add about 100 ml of cream and reheat.
Serve garnished with a swirl of cream and some chopped herbs.
Serve with crusty bread or croutons.
Extra Herby Cream of Leek and Potato Soup
In my case this soup could also be called "Use it or Lose it" soup. I had some extra rocket and parsley in the fridge and wasn't in the mood today for rocket salad or tabbouleh. But if I didn't use the stuff today it would be wasted, and food waste is something we should all try to avoid. The obvious and easy answer was to put it in the leek and potato soup.
Now I'm not suggesting by any means that you should just chuck any old thing into your soups. That could produce some quite revolting results. But it's quite reasonable to assume that several chopped, fresh, green herbs would go well in a soup like this.
Simply take the hearty soup method above and add the chopped herbs. Simmer for a couple of minutes.
Serve garnished as for the hearty soup above. I made garlic croutons for mine.
You can mix and match the variations above, and also use a swirl of crème fraiche as a garnish if you're wanting a creamy taste without the calories. The permutations are endless, but I hope you've found something here which will appeal to your own personal tastes.