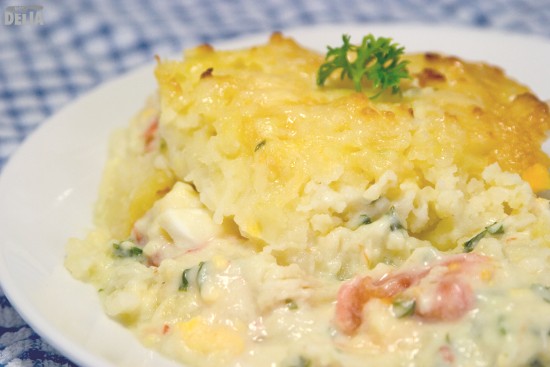 Fish pie isn't a meal in minutes by any means but I've developed a quick and easy way to speed up the process.  Most fish pies require you to poach the fish in milk first, then reserve the liquid, cool it, and use it to make the sauce.  I skip this process by cooking the fish in the sauce.
Here's my method.  (For ingredients, timings, and other details, please see further below.)
Get the spuds on to boil first.  Cut them small so they cook quicker. Mash them with butter and pepper, if wanted.
Meanwhile hard boil the eggs. When they're done, peel and slice them.
While the spuds and eggs are boiling start making your white sauce. Parsley sauce is nice too.
Now cut the fish into bite-sized pieces. Make sure you get all the bones out!  Pin bone the fish, if necessary.
Pop the fish pieces into the sauce and cook on a very gentle simmer.
Now play catch up if you haven't completed the mash and sliced the boiled eggs.  Also slice a couple of tomatoes.  Grate some cheddar cheese if you want a cheesy topping.
By now the fish should have cooked in the sauce.
Assemble – put the fish filling first, then sliced eggs and tomatoes, then the mash.  Fork the mash down so it's even and looks nice. Sprinkle grated cheese on top.
Bake in a hot oven for about 40 minutes.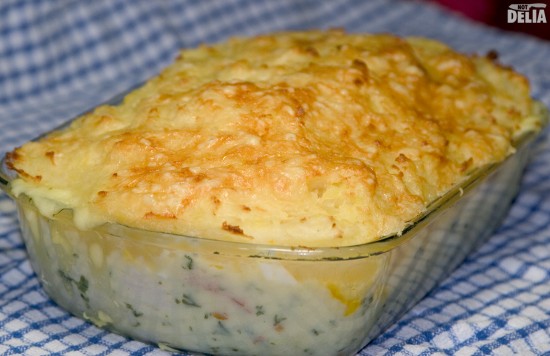 For those who like proper recipes with quantities, there's a good one here: BBC Good Food's fish pie recipe. They do it pretty much how I do except that I added sliced tomatoes to mine and I assembled the whole pie before baking, whereas they add the potatoes about halfway through the baking process.