The Tapestry of Love – free recipe booklet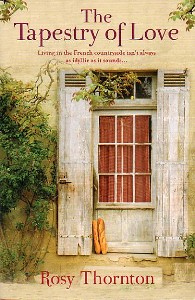 The Tapestry of Love by Rosy Thornton is published today, 14 October, in paperback.  I received a review copy in advance and reviewed the novel on our sister site British Expat. The setting for the story is Cévennes in rural France and the characters make the most of nature's bounty which is freely available to them – wild boar, herbs, mushrooms – as well as all the locally produced food such as goat's cheese.  And almost everyone makes their own honey.  It's a gentle novel and one where the reader can easily relate to the characters.  Please do pop over to British Expat and read my full review of it.
To celebrate the paperback publication of the book, Rosy has created a booklet which contains recipes based on food cooked and served by characters in the novel.  You can download the free recipe booklet from the link below.
Recipes from the Cévennes by Rosy Thornton (PDF, 1.3 MB)
I liked the simple wholesome recipes and hope to blog about some of them soon.  If the free recipe booklet whets your appetite to read the novel too, it's now available on Amazon UK.
The Tapestry of Love
Rosy Thornton
Paperback, 406 pages
2010, Headline Review
ISBN 978-0-7553-4557-1
RRP: £7.99
Win a copy of The Tapestry of Love!
All you have to do to be in with a chance of winning a copy of Rosy's highly readable novel is to comment on either this recipe booklet or on my review of the novel on British Expat. You can even comment on both if you feel like it – why not double your winning chances?!
But the competition closes at 2359 GMT on Tuesday 30 November, so don't delay – do it now!