Not Delia's fish fingers with curry mayo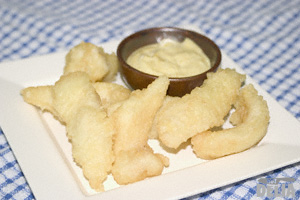 If the thought of fish fingers sends you running for the hills, hang on a minute because if I were a bit more posh, I'd be calling these goujons.  Simply cut your firm white fish fillets into suitable fingers, dip them in tempura batter, and deep fry in a wok or by some other means.  I used Pacific dory fish because that's what I had available.
I served mine with curry mayonnaise.  It seemed like a good idea at the time to try something different.  I made that by stirring a teaspoon of curry powder into the mayonnaise.  It was OK, but I wouldn't rave about it and would probably stick to garlic mayo the next time.
If  you're not worried about eating lots of deep-fried snacks, it's nice to have these with crispy onion rings.  Same method – slice the onion into rings, dip in the batter mix, and deep fry.